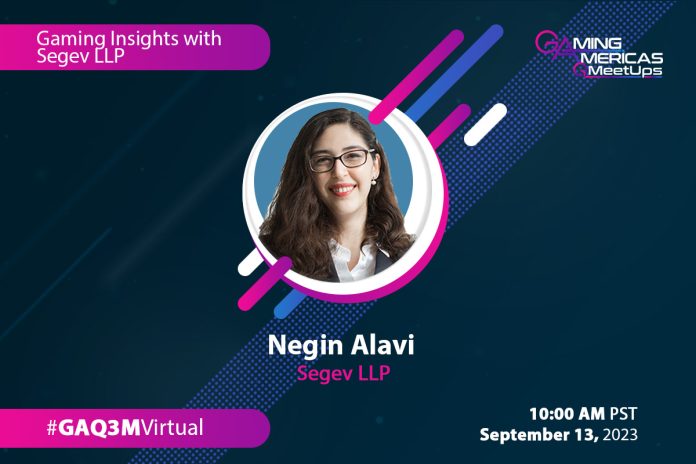 The Gaming Americas Quarterly Meetups by Hipther Agency are designed to keep you up-to-date with what is fresh in the North American and Latin American gambling industry.
The meetups feature several panel discussions per region and topics that are joined by key industry experts, CEOs, C-Level Executives, Business Development Managers, and sometimes government officials/regulators.
The Gaming Americas Q3 Virtual Meetup that took place on September 13 presented an in-depth exploration of US gambling legislation, featuring the latest edition of the 'Gaming Insights with Segev LLP' and the 'US Legislation Round-up', while the last session delved into the world of AI and the challenges it poses in the iGaming sector.
Session 1: 'Gaming Insights with Segev LLP'
Speaker: Negin Alavi, lawyer at Segev LLP 
Watch the Session on YouTube and HiptherTV!
Negin Alavi, a distinguished lawyer at Segev LLP, took the virtual stage during the 'Gaming Insights with Segev LLP' session, setting the tone for a captivating discussion on the evolving legal landscape of gaming and betting.
Kicking things off, Negin provided a brief overview of Segev LLP and its international operations spanning Canada, the United States, and China. This global presence underscores the firm's commitment to addressing legal challenges and opportunities across borders. With this foundation in place, Negin delved into the heart of the matter: a comprehensive review of the current gaming and betting laws that shape the industry.
Intriguingly, Negin also explored the potential transformative effects of the proposed alterations outlined in Canadian Bill S-268. This bill, titled "An Act to Amend the Criminal Code and the Indian Act," carries the promise of redefining the Canadian gaming and betting legal landscape.
Before delving into the legal intricacies, Negin took a moment to acknowledge the significance of her location. She presented her insights from Vancouver, situated on the unceded, ancestral, and traditional territory of the Musqueam Squamish and Tsleil-Waututh nations. This acknowledgment was twofold: a mark of respect for the indigenous peoples who steward these lands and a recognition that discussions about Canadian law, particularly those concerning indigenous peoples, are imbued with profound implications.
The current legal landscape in Canada revolves around the Criminal Code, the primary piece of legislation governing gaming and betting. Under this federal legislation, gaming and betting are generally illegal, with certain exceptions, notably lotteries. Negin emphasized that gaming, as defined by the Gambling Law, comprises three fundamental elements: consideration (the bet or wager of money), chance, and a prize. Even when games blend skill and chance, they are still categorized as games of chance in Canada.
Provinces possess the authority to enact gaming legislation within their borders, and even operate in partnership with offshore gaming operators, as seen in Ontario's new iGaming regime. However, altering the Criminal Code, a federal statute, is beyond their unilateral reach. Despite this federal oversight, recent legal reforms have significantly shaped Canadian iGaming. Single-event sports betting became legal in August 2021, and Ontario launched its established iGaming Regime in April 2022.
Before these changes, Provinces were constrained to offering parlay betting, leaving offshore operators to fill the void in single-event (and live) betting. Now, with the legalization of single-event betting, any Province can oversee it. Ontario, being well-positioned, promptly launched its iGaming regime, now in competition with unregulated offshore offerings. This shift has allowed legally registered iGaming operators to provide their catalog to Ontario consumers, who spend nearly a billion CAD on online gambling. It's a move toward embracing private operators rather than battling against them.
However, it's essential to recognize the context: many Canadian companies were pioneers in the early days of iGaming, but due to regulatory limitations, they relocated offshore. These legal reforms may signal a return to Canada's true potential in the iGaming sector.
The implications extend beyond economics. The Ontario Government stands to gain substantial tax revenues, which were once lost to unregulated operators. With these reforms in place, the iGaming industry in Canada is poised for better regulation, emphasizing consumer protection, responsible gaming, and job creation.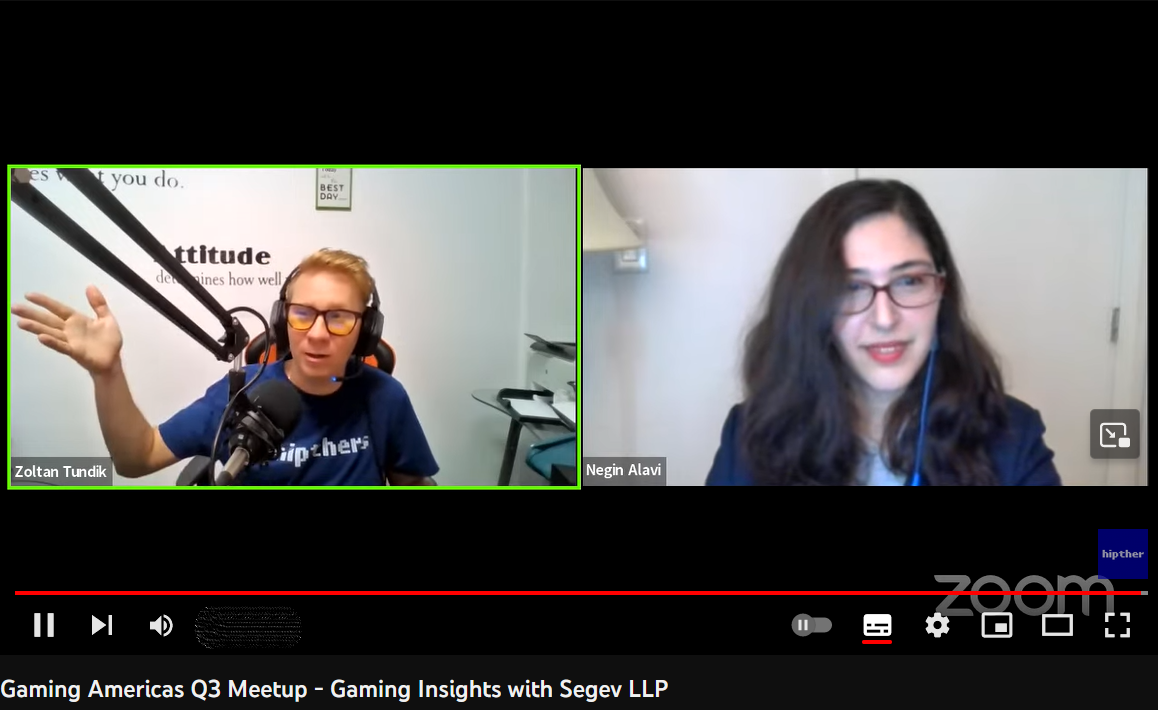 Turning our attention to the future, Negin provided a compelling overview of the impending changes in Canada's legal landscape. At the forefront stands Bill S-268, poised to terminate provincial governments' monopoly on lotteries.
To facilitate the discussion, Negin illuminated the legal distinction between indigenous peoples and First Nations. While indigenous peoples encompass all of Canada's original peoples and their descendants, a First Nation is an officially recognized group under the Canadian Federal Government's administrative unit, governed by the Indian Act. Importantly, Bill S-268 proposes to amend this very act.
The Indian Act, originally enacted in 1876, has a complex history marked by efforts to assimilate indigenous peoples and numerous discriminatory provisions. While some of these provisions have been removed, the act still wields a substantial influence over indigenous peoples' lives today.
The proposed changes in Bill S-268 are ambitious and far-reaching. Its preamble is particularly noteworthy, as it outlines the legal foundation for these changes. Negin read the preamble aloud, emphasizing the recognition of indigenous and treaty rights, including their rights to regulate activities like gaming, betting, and lotteries on their lands.
This nuanced phrasing suggests that lawmakers are granting new rights to indigenous peoples while acknowledging that they already possess inherent treaty rights to oversee gaming, betting, and lotteries on their lands. The potential impact of this specific wording on Canada's legal framework remains to be seen should Bill S-268 become law.
Moving on, Negin detailed the enforceable part of the bill, containing amendments that provide considerable flexibility to First Nations in managing lotteries. These amendments span charitable gaming licensing, fairs and exhibition gaming, amusement park lotteries, and the Terms & Conditions of licenses. In effect, these changes substantially narrow the scope of the current criminal code exceptions, representing a significant shift in Canada's gaming laws. Importantly, it would mark the first time in Canadian gaming law that provincial governments would not need to be directly involved in for-profit gaming operations.
Summarizing, Negin pointed out the profound implications of this bill. If enacted, hundreds of First Nations could independently conduct and manage lotteries, each in accordance with their own laws. This change opens up a world of possibilities, not only in terms of revenue but also empowerment for indigenous peoples.
In conclusion, Bill S-268 stands as a transformative piece of legislation, promising to reshape the industry and empower indigenous communities. These discussions hold significance not just for the iGaming sector but for the broader Canadian legal landscape and its indigenous peoples.
As we eagerly await the unfolding of these legal developments, it's clear that the gaming industry in North America is poised for significant changes, with potential benefits for all stakeholders.
Stay tuned for the next two insightful sessions of Gaming America Q3 Meetup, the US Legislation Round-up for Q3 and the hot AI issues in iGaming!
Watch the video of "Gaming Insights with Segev LLP" on YouTube & Hipther TV!