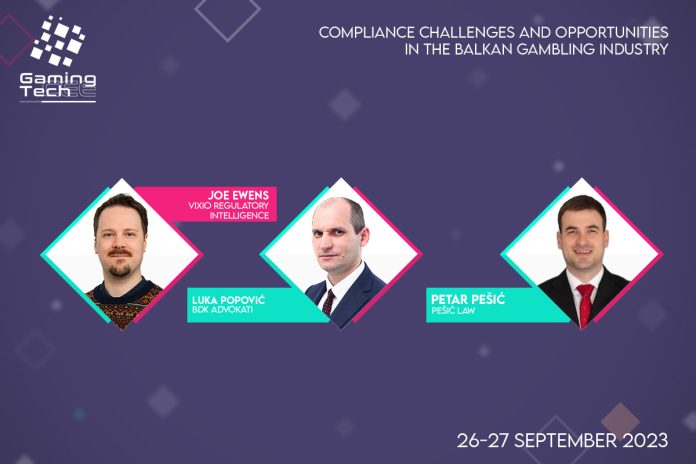 Reading Time:
2
minutes
GamingTech CEE is around the corner, taking place on September 26-27, 2023, at the prestigious Ritz Carlton Budapest. The leading event for exploring the latest tech innovations in the gaming industry within the Central and Eastern European (CEE) region promises to be a game-changer, featuring panel discussions on a wide range of topics.
The ultimate destination for industry professionals, innovators and enthusiasts, GamingTech CEE – brought to you by the #hipthers – offers a unique opportunity to gain a deeper insight into how the gaming industry is evolving within the region. With a focus on compliance, innovation, and networking, this event offers a platform for industry professionals and enthusiasts to stay ahead in the dynamic world of gaming technology.
The panel discussion, moderated by Joe Ewens, Global Managing Editor at VIXIO Regulatory Intelligence, will convene industry experts, legal professionals, regulators, and representatives from gambling operators. Their objective is to explore the multifaceted landscape of compliance in the Balkan gambling industry.
As the gambling industry continues to evolve, ensuring compliance with regulations and staying informed about the latest developments is vital for businesses operating in the Balkan region. The panel will shed light on key topics, including:
Regulatory Frameworks in the Balkans: Experts will provide an overview of the diverse regulatory frameworks within the Balkan region, highlighting unique challenges and opportunities for operators.
Licensing Procedures: Attendees will gain insights into the licensing procedures specific to Balkan countries, with discussions on best practices and potential pitfalls.
Ongoing Compliance Obligations: The panel will delve into the complexities of maintaining ongoing compliance with ever-evolving regulations, sharing practical strategies for success.
Latest Regulatory Developments: Experts will discuss recent changes in the Balkan regulatory landscape, including updates to licensing procedures, responsible gambling measures, advertising restrictions, and anti-money laundering requirements.
Impact on Operators: Attendees will understand the real-world impact of compliance challenges on gambling operators in the Balkans and explore strategies for overcoming them.
Opportunities in the Balkan Gambling Market: The discussion will highlight the potential growth and opportunities within the Balkan gambling industry, including the demand for online gambling, emerging technologies, and regional collaborations.
Panelists
Luka Popović – Partner at BDK Advokati
Petar Pešić – Attorney At Law at Pešić Law
Register to the event
GamingTech CEE is more than just a conference; it's a platform for networking, knowledge sharing, and fostering collaborations in the gaming technology sector. Attendees will have the chance to connect with industry leaders, explore cutting-edge innovations, and gain a competitive edge in this rapidly evolving industry.
Registration is still open for those interested in joining this and other enlightening discussions and being part of the GamingTech CEE experience. Register for the conference now or find out more about GamingTech CEE on the official website.