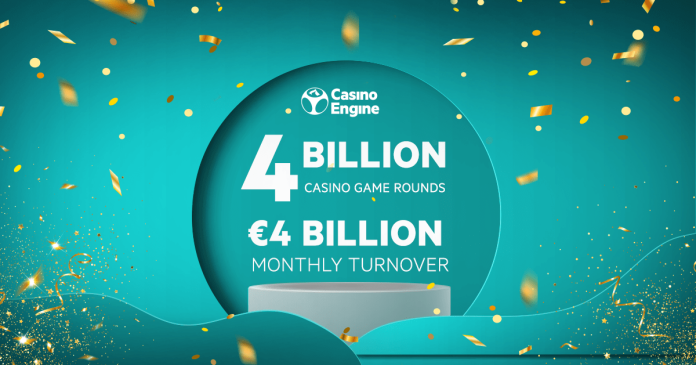 Reading Time:
< 1
minute
Rapid growth B2B iGaming technology provider EveryMatrix has exceeded more than 4 billion monthly game rounds and €4 billion monthly turnover across its CasinoEngine platform.
CasinoEngine, the group's casino productivity platform, surpassed both 4 billion milestones in May 2023 and has shown exceptional growth in the last two years setting record profits and generating record customer revenues.
EveryMatrix's casino growth has soared during that period. It took four years to go from one to two billion rounds from 2018 to July 2022 but just 11 months to go from two to four billion game rounds from July 2022 to May this year.
Monthly casino turnover across the platform has also grown at lightening pace rising from €2bn in May 2021 to €3bn in February 2023 while the €4bn landmark only took a further three months to achieve.
Monthly Gross Gaming Revenue (GGR) has also soared 50% in the last eight months. This is due to CasinoEngine's exceptional performance driving continuous growth among tier-1 clients. GGR has risen from €55m in June 2020 to more than €100m in November 2022 and surpassing €150m in May this year.
Stian Enger Pettersen, Head of Casino, EveryMatrix, said: "These milestones showcase our strength and leading presence in the market, the trust our partners have in us and our products and just how rapidly both our clients are growing, and we are growing as a result.
"A huge thank you to our valued clients who continue to put their faith in us and select EveryMatrix as their trusted provider, while our casino team's dedication, creativity, and innovative thinking continue to play a pivotal role in shaping the iGaming solutions of tomorrow."