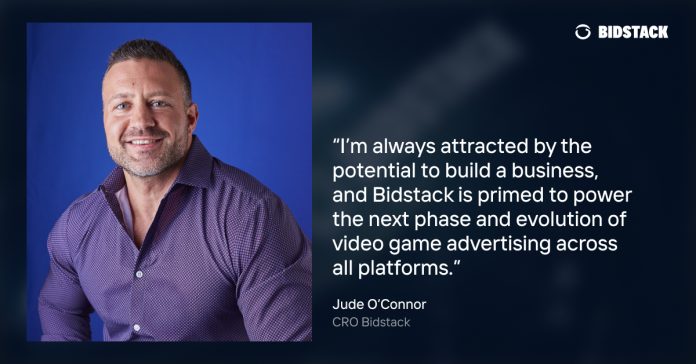 Bidstack, the in-game advertising and video game monetization platform, today announces that Jude O'Connor joins the company from AdColony as Chief Revenue Officer.
O'Connor's appointment signals a significant acceleration of Bidstack's expansion in the US market. The proven advertising leader is tasked with overseeing global revenue and growth, while leading the team across sales, publishing, marketing, and strategy. He will rapidly scale Bidstack's local teams and steer a go-to-market strategy centered on educating the US market on Bidstack's pioneering and revolutionary in-game technology.
A 20-year adtech professional, O'Connor joins Bidstack after more than seven years at AdColony, one of the world's largest mobile gaming monetization platforms. During his AdColony tenure, he transformed the business into a two-time winner of AdWeek's Mobile Ad Network of the Year award before leading the company to a $400 million exit in 2021. Prior to entering the gaming space, O'Connor worked at pioneering internet companies like Yahoo and AOL.
In 2022, the global gaming market as a whole will generate $196.8 billion. Mobile games, which make up 53% of the market ($103.5 billion) have been the proving ground for the native in-game format, which now is increasingly being explored by major cross-platform publishers of PC and console titles. Just last month, the IAB and MRC released updated guidelines for the measurement of in-game ads, heralding a new wave of mass adoption. As well as native in-game ads, Bidstack's product offering includes in-menu and rewarded video formats that provide a powerful combination of brand awareness and performance for reaching the 3.2 billion global gamers.
Jude O'Connor, Chief Revenue Officer at Bidstack, commented:
"We're approaching an inflection point where brands are ready to be part of the immersive, multi-touchpoint experiences that gaming offers at scale. Bidstack has spearheaded the growth of native formats, and its tech enables the cleanest and smoothest native in-game experience available in the market. I'm always attracted by the potential to build a business, and Bidstack is primed to power the next phase and evolution of video game advertising across all platforms."
James Draper, Founder and CEO of Bidstack, said:
"I'm really excited to welcome Jude to Bidstack. Jude has an unrivaled track record of establishing and scaling businesses in the gaming and adtech space, and I look forward to working with him to help execute on our commercial vision, together. Attracting talent of this caliber is a testament to the growth of Bidstack as a business and the huge, untapped opportunity for in-game advertising within the market."
Since launching into in-game advertising in 2017 with Sports Interactive's legendary Football Manager series, Bidstack has run award-winning in-game campaigns for brands such as Marriott Bonvoy, Paco Rabanne, and Doritos, and works with world-leading game publishers such as Codemasters, and Take-Two Interactive.