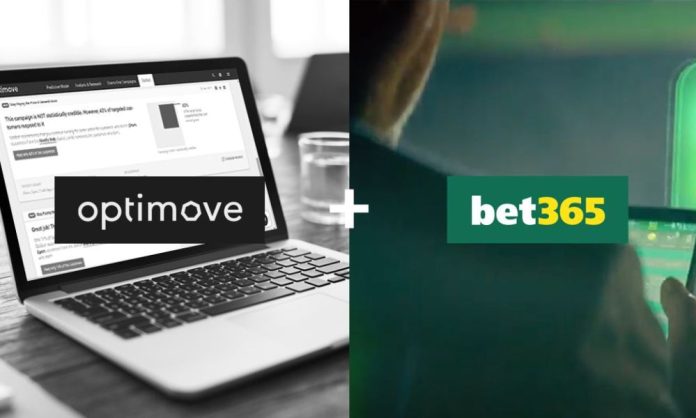 Reading Time:
3
minutes
The world's largest online bookmaker is set to partner with the retention marketing leader to scale marketing personalization and drive growth through AI-mapped CRM journeys
Optimove, the leading CRM Marketing solution,  announced it has been selected by bet365, the world's largest online sports betting brand, to orchestrate and optimize all CRM marketing activities. The powerhouse partnership between the two industry leaders demonstrates bet365's strategic investment in scaling retention marketing efforts and maximizing player lifetime value as a growth driver for the business.
Optimove's AI-mapped CRM journeys will allow bet365 to transform its CRM Marketing efforts empowering the sportsbook giant to scale and manage hundreds of player segments, orchestrate realtime and scheduled multichannel campaigns, and measure the incremental value of each player interaction. For the first time since its founding in 2000, the global iGaming leader has turned to a third-party vendor to support its CRM Marketing efforts.
With a Customer Data Platform (CDP) at its core, Optimove offers marketing teams direct access to their customer data to build, test, and optimize hundreds of CRM campaigns weekly. Optimove allows brands to reach their customers with the right message on the right channel by personalizing thousands of campaigns to hundreds of segments. Unlike other technologies that rely on common, rule-based orchestration, Optimove's AI-driven solutions autonomously determine the next best action for each customer, eliminating marketers' need to manually map every customer journey.
The scientific approach embedded in Optimove's CRM Marketing platform will empower bet365 to measure the incremental value of each player interaction. bet365 will gain key capabilities via Optimove:
· Enriched customer profiles: Unifying all historical, predictive, and realtime customer data from sources such as CRM, service clouds, and data warehouses via Optimove to create a comprehensive single customer view.
· Multichannel personalization and orchestration: Orchestrating hundreds of campaigns seamlessly by leveraging Optimove's AI-mapped CRM Journeys to deliver personalized customer communications across any channel.
· A continuous optimization loop: Leverage Optimove's productized experimentation tools to measure the incremental uplift of each campaign, journey, and strategy to continuously optimize CRM Marketing performance.
Already working with one in three operators in the EGR Power 50 Ranking, the new partnership demonstrates Optimove's continuous growth and strong momentum in recent months. In July 2022, the company announced the acquisition of Graphyte, a cloud-based personalization platform built for the sports betting and iGaming industry. In March 2022, Optimove acquired Kumulos, a personalized mobile marketing solution, following its September 2021 $75 million investment led by Summit Partners.
"bet365 continue to build an industry leading sports and gaming product, and the business believes the time is right to complement the platform with best of breed third party technology," said Alex Sefton, Chief Marketing Officer at bet365. "With Optimove we have done just this. This deal heralds a change in direction for bet365, but also the start of a long-term partnership working with Optimove to grow our business. We are at the start of something genuinely exciting for bet365 and I don't think we could have found a better partner."
"We're thrilled to be selected by bet365 as their CRM Marketing solution," said Motti Colman, Senior Director of Sales at Optimove. "Working together, this is a true super team. As a company that is known for keeping most of its tech in-house, this is a huge move by bet365 to go out to a third-party provider. We're proud to have been chosen and humbled by bet365's belief in our ability to deliver. I am certain that the work we accomplish together over the coming years will be groundbreaking and will help catapult bet365 into a new era of growth."
How did this partnership come to be?
Motti Colman: "We've been speaking to bet365 on and off for 5 years, but they've always had other priorities and now the time is right."
What are the goals for bet365 working with Optimove? What are they looking to achieve?
Motti Colman: "Their primary driver was the desire to put their customer first.  In doing so they are looking to learn more about their customers and improve all the related KPIs.  The upshot of that will lead to increased customer loyalty."
Do you think this partnership will impact the iGaming space as a whole?
Motti Colman: "Clearly bet365 investing time and money into MarTech will definitely have an impact. Despite all the M&A activity around them, they still remain the biggest brand in the industry and other companies definitely take note when they make big strategic moves."
What's next for Optimove in the industry? Is there room for growth still?
Motti Colman: "Despite our huge presence in the space, the area where we see the most opportunity is at the top end of the market.  It's the traditional Tier 1s that are often a lot slower to adopt advanced technologies, but as we have shown with this collaboration, if an operator is open minded to the possibilities that exist, we can dramatically enhance their customer marketing capabilities."
Optimove will be exhibiting at SBC Barcelona, September 21-22, Stand F7.
Powered by WPeMatico