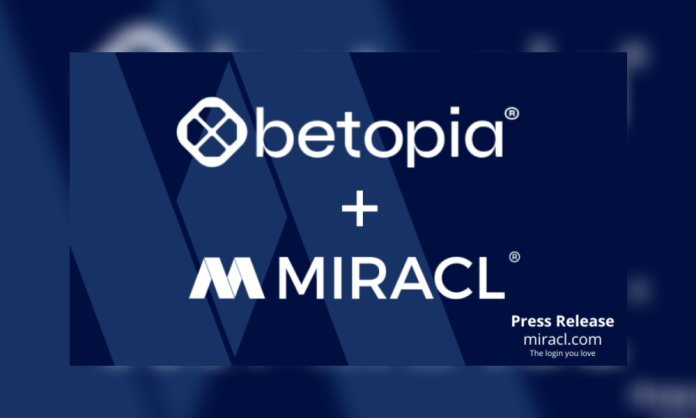 Reading Time:
2
minutes
Ahead of the SBC Summit in Barcelona this week, Betopia today announces details of a new partnership with single-step multi-factor authentication (MFA) provider, MIRACL in a bid to provide even smoother login experiences for their online customers.
Betopia is the first blockchain betting platform for E-Sports Live Steaming and Micro-Betting, International Sports Book Betting and Integrated Metaverse Casino Operations. With a primary focus on creating the optimum experience for its customers through a fair and entertaining user experience, it helps mass markets to adopt to crypto within the ever evolving gaming sector. With user experience top of mind, partnering with MIRACL is a no-brainer.
MIRACL is the world's only single-step multi-factor authentication. A two-second PIN login is all that is needed to authenticate. No passwords. No data and no second device. With unprecedented statistics for login's – 99.9% are successful. This guarantees a seamless login experience for individuals betting – enabling a friction-free experience from entering a platform and placing the bet. Combined with Betopia's leading drive to be established as the ultimate blockchain betting platform, their formidable partnership will create a near perfect environment and the very best gaming experience for the user.
As legislation from New Jersey in the US commits gaming companies to use MFA on their platforms, it is a directive that is anticipated to spread throughout the gaming sector. So this new partnership by Betopia will ensure it is well placed as this trend spreads globally.
Graham Martin, Director at Betopia comments, "It was clear that the combined talents of Betopia and MIRACL to collaborate in developing the Betopia Metaverse is a powerful partnership. By using the unique products and services available from Betopia and, using the quickest and most secure passwordless authentication service that MIRACL provides, we are convinced we will experience solid and innovative progress in developing mutual benefits for both businesses."
Rob Griffin, CEO at MIRACL adds, "Our single-step multi-factor authentication is the ideal solution for gaming and gambling platforms – customers aren't lost at the critical entry point meaning as many bets are placed as possible, and not lost to competitors. In this competitive market, every bet counts so ensuring you are using the smoothest login is critical for maximising your business' potential.
Our partnership with Betopia makes perfect sense and we look forward to working closely with the team to ensure MIRACL can be integrated into as many gaming and betting platforms as possible."
Additionally, MIRACL is software-based and API-enabled to work from any device or browser. This means a quick and seamless integration with any device or platform you're using. The software doesn't store personal data, passwords or PINs, so it's fully resistant to remote attacks – with zero security vulnerabilities. The old notion that your account login must be either fast and easy or secure is no longer true, MIRACL offers both at the same time! For further information on MIRACL please visit: www.miracl.com
Betopia will continue to partner with projects and solutions that add value to their users. Putting users first allows for the best product and ecosystem possible – an ongoing priority.
Powered by WPeMatico