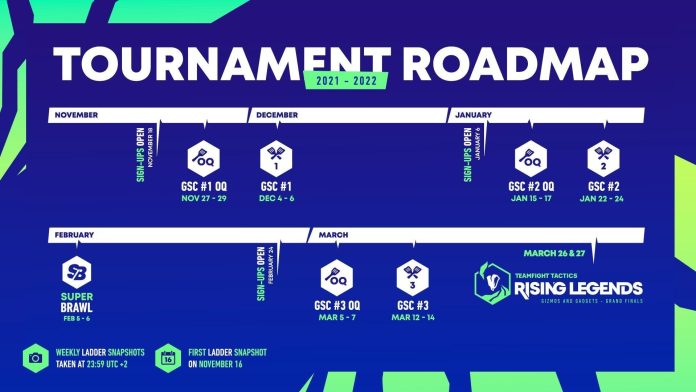 Reading Time:
2
minutes
Riot Games has announced the new season of Rising Legends, the esports circuit for Teamfight Tactics (TFT) in EMEA. Based on the new TFT Set: Dragonlands, players will be able to prove themselves as the best tactician in the Region through several layers of competition.
With a total prize pool of €50,000, the circuit will take place from June to October 2022 and will be operated by GGTech Entertainment. Thanks to feedback provided by the players, this season will see some changes that will level up the competition.
Golden Spatula Cups (GSCs): these Cups will serve as the main tournaments of the season, with each Cup winner qualifying for the Finals, along with the top 14 performers through all three Cups. Unlike the Cups in Gizmos & Gadgets, players will be now distributed into lobbies depending on their performance rather than randomizing them every two rounds.
TFT Regional Competitions (TRCs) and Superbrawl: with Dragonlands, a series of TFT Regional Competitions, or TRCs, will be put in place by local Tournament Organizers, determining the qualified players for the Superbrawl. The player pool for Superbrawl is increasing from 16 to 24 players, with the number of players qualifying for the Finals also increasing to 3.
Rising Legends Finals: the best players from the GSCs, Ranked Play, and the Superbrawl will meet in a three-day battle for the title of Rising Legends Champion and one of the slots for the TFT Dragonlands Championship.
Additionally, Riot Games has just launched @TFTEsportsEMEA, the official Rising Legends Twitter account, which will be a source of updates and content for all the fans.
To celebrate the launch of the Set and the Season, Rising Legends will also be hosting Dragon Party!, a show match where guests from EMEA and NA will showcase the new units, traits, and mechanics of Dragonlands. Dragon Party! Will be broadcast live on June 11 at 7 pm CEST on TFT's Twitch channel.
In the words of Max Wischow, Product Lead for EMEA TFT Esports, "I am super excited to bring our EMEA TFT Esports Rising Legends Tournament Circuit into the Dragonlands. I am thankful for the positive and constructive feedback we received during and after Gizmos & Gadgets and have accordingly implemented a few tweaks to our Rising Legends Circuit. With Set 7 we would like to focus and support our regional competitions driving maturity with the implementation of TRCs (TFT Regional Competitions)."
All the TFT action will be covered in English on the official Twitch channel: twitch.tv/teamfighttactics and in other languages through the official Co-streamers, which will be announced later on. More information on the tournament, broadcast, and how to participate will be published on the official tournament website: risinglegends.gg
Powered by WPeMatico