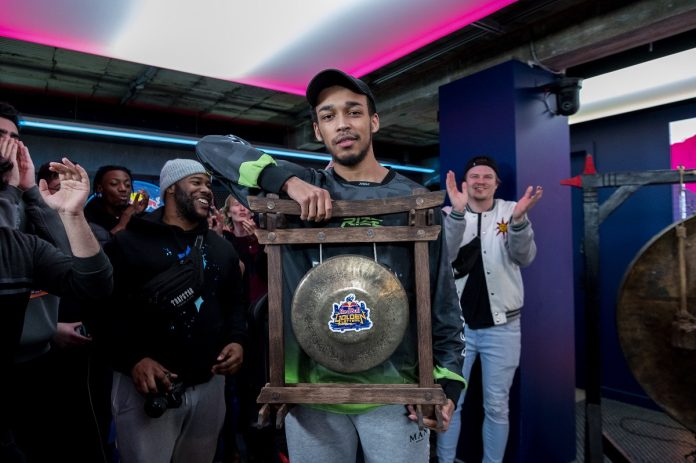 Reading Time:
3
minutes
Richie "AyoRichie" Olusanya has been crowned Red Bull Golden Letters champion, overcoming Joey Fury in the Grand Final after a weekend of tense Tekken 7 action at the Red Bull Gaming Sphere in London.
AyoRichie won out at the new Tekken 7 LAN event, which was broadcast live from the Red Bull Gaming Sphere in London, staking a claim as one of the UK's rising stars in Tekken as a series of outstanding performances saw them rise to the top of 100 aspiring and professional players.
The Brit proved a force to be reckoned with throughout the weekend, pulling off an unbelievable series of upsets over some of Tekken's biggest stars to set up a tense Grand Final against Loser's Bracket winner Joey Fury.
The Grand Final started as a tense affair where Joey Fury's experience could stand out, as the American pulled off a clean sweep to take the first game and, despite signs of a recovering AyoRichie, shortly after took home the second, scoring a 'Perfect' in the process. The third was a closer affair but a confident Joey Fury capitalised to pull off a clean sweep in the set and confirm a Grand Final Reset with everything to play for.
In the second set, AyoRichie immediately took the advantage and displayed the incredible form he'd shown throughout the tournament, scoring a clutch 'Great' score that saw him gain enough momentum to take game one. The second game went all the way as the pair traded blows, and while AyoRichie's momentum scooped him game two to put him within reach of the Championship, Joey Fury proved clutch in game three to take it to a pulse-racing fourth game.
With another game ramping up the tension, AyoRichie pressed his advantage in a brilliant display, securing a clean sweep to win the set and the Red Bull Golden Letters trophy.
The Championship Sunday played host to a series of epic matchups, after the Saturday had whittled down the field of 96 players to the four best players and saw Tekken 7 stars including Anakin, Super Akouma, Joey Fury & Chickenmaru entering the fray.
Despite the star-studded field of competitors, AyoRichie was the story of the tournament, battling through from Open Qualifiers with some excellent performances to reach the top eight. He reached another level on Championship Sunday as the Rize Gaming player pulled off surprise upsets against Super Akouma, Joey Fury and home-favourite Anakin to set up a Grand Final against Loser's Bracket winner Joey Fury.
Following his amazing performance in the Grand Final, newly-crowned Red Bull Golden Letters Champion Richie "AyoRichie" Olusanya said: "I can't describe the feeling of coming away with the win, I've been working so hard at the game and it's finally paid off so I'm just excited to see what's going to happen next.
"The [Golden Letters] format brings so much hype to it, the scoring can work against you but it's sick and so great to watch and play in. It was unbelievable playing here in front of a live audience – with people cheering you on there's nothing like it at all and that atmosphere definitely inspired some of the performances today."
Red Bull Golden Letters pioneers a unique format that offers a fresh and scintillating twist to the classic Tekken 7 formula. In best of five sets, players who can carry out dominant wins or clutch plays and earn 'Perfect' or 'Great' scores – Tekken's iconic golden letters – will reap the rewards with automatic wins.
The format helped inspire some unforgettable matches and mouth-watering moments as some of the best Tekken 7 pros showed off their poise under pressure, with a total of 14 Golden Letters victories throughout the competition..
Red Bull Golden Letters host Hassan "Spag" Farooq, commented after the Grand Final: "It's great to see a UK player put in this kind of amazing performance on home turf at Red Bull Golden Letters. When he started out during the pandemic everyone in the UK could see he had potential for greatness but he's proved it now with a huge breakout performance.
"Nothing like the Golden Letters format had been done before and it's been a huge success, genuinely adding to the viewing experience and building up the hype even more for fans with some unforgettable moments, and we're already hearing people want another one."
As the Official Hardware Partner The 'Legion by Lenovo: Beat the Pro' challenge saw players compete against the best of the best for a chance to win exclusive Legion by Lenovo prizes, with five challengers taking a win against Tekken stars Anakin, Super Akouma, Joey Fury and Chickenmaru to take home exclusive Lenovo headsets. Tekken fans were also treated to additional mouth-watering clashes ahead of the Grand Final as continents collided in UK vs EU and UK vs The World special exhibition matches.
Tekken icon Hassan "Spag" Farooq was front and centre of yet another blockbuster Tekken event as the live broadcast host, supported by an all-star casting team of Rasheed "Bubsy" Jenkins, Hussain "Gosain" Shah and Kobi "K-Wiss" Scarlett. As one of the first major Tekken 7 LAN events of the year, the broadcast garnered over 18,000 concurrent viewers across all channels.
Red Bull Golden Letters was delivered in partnership with ​​Lenovo Legion, official hardware partner of The Red Bull Gaming Sphere.
Powered by WPeMatico