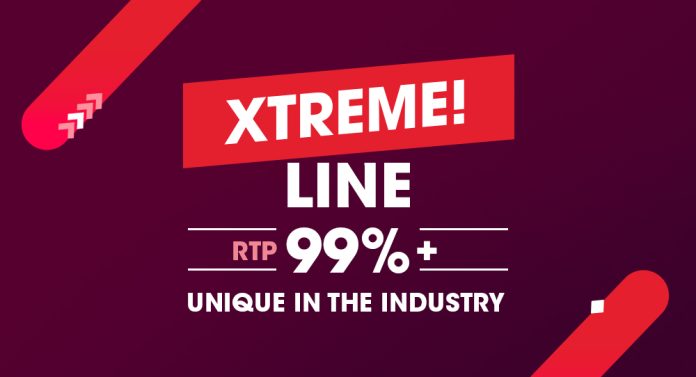 Reading Time:
2
minutes
Spinmatic's Xtreme! line is shaking up the slot world, with the highest RTP in the industry at over 99% for all games.
It has already shown itself to be successful, with first release Fruity Beats Xtreme! at RTP 99.08% progressively doubling, tripling and then quadrupling the bet amount of their most played Spinmatic game in only its first three months after being launched.
H2 UNIQUE IN THE INDUSTRY
The Xtreme! line is unique in the iGaming sector due to its substantially higher RTP rate. Every Xtreme! game will feature RTPs over 99% as this is what attracts such high numbers of players, who come back time and time again because they love the sensation of winning so frequently.
A high RTP motivates players and helps them to relax and enjoy themselves during the game. Operators have noticed that retention is higher as players have fun, win high and come back for more, as opposed to being put off by not winning during their first experience. This business strategy is based on earning more from several small amounts than from one large amount, with the appeal of constant wins.
H2 XTREME! RELEASES
Spinmatic kicked off their Xtreme! line by converting a classic: Fruity Beats, a lovable retro slot which has turned Xtreme! thanks to the highest RTP in the industry at 99.08%. The 80s is calling, the music is pumping and the prizes are for the taking in this slot. Check out the game review and try the slot demo to feel the beat for yourself.
Next up they ventured back into the magical Fairy Dust forest to give their fairies Golden, Ruby and Sapphire a sparkly new RTP of 99.04%. Fairy Dust Xtreme! invites players to try their luck amongst the incandescent flora and fauna of the Spinmatic world, available to try in the demo.
The latest release in this line is the Xtreme! version of their most profitable and most played game worldwide in recent months: Ed Jones & The Book of Seth. The famed archeological adventure meets its Xtreme! counterpart with an RTP of 99% as players join Ed Jones in his quest to find the most exciting book in the industry. Take a look at the demo.
The feedback has been overwhelmingly positive, with more Xtreme! games having already been requested. Spinmatic assures that they have plenty in the pipeline and are working hard to keep rolling out the gaming revolution.
Stay tuned and stay Xtreme! with Spinmatic, the B2B casino provider with the best RTP slots around.
Powered by WPeMatico