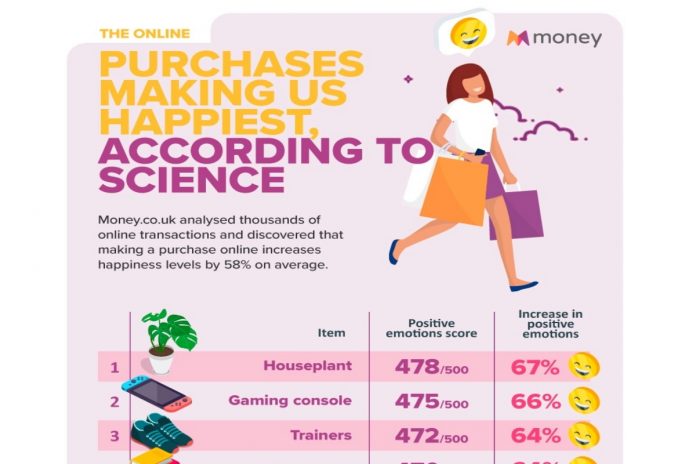 Reading Time:
4
minutes
On average, online purchases are found to raise our positive feelings by 56%
Participants reported the biggest increase in happiness when purchasing houseplants – positive emotions soared by 67%
Gaming console purchases saw the second highest increase in positive feelings (+66%)
Trainers and fiction books are also among the purchases raising positive emotions most
Holidays abroad came in last; participants noted high levels of excitement but also reported an increase in concern due to its uncertainty
Thanks to 'doom shopping', it was revealed that the UK spends three times more when online shopping compared to the global average, costing the average person a whooping £1,382 per year! Clearly these purchases keep us coming back for more, but how do we enjoy splashing our cash the most?
Interested in online shopping, money.co.uk conducted an emotions test among 2,560 participants to discover which online purchases bring us the most joy!
Participants were asked to complete a variation* of the BMIS test (Brief Mood Intensity Scale) and record the intensity of 10 different emotions after making an online purchase. The intensity of each emotion was allocated a score based on its positivity, with a maximum score of 500 points per item – the higher the score, the better. Participants were also asked to complete the same test before making any purchases to uncover the percentage increase in positive emotions when shopping.
Which online purchases make us happiest?
Money.co.uk can reveal that a houseplant purchase increases our intensity of positive emotions more than any other transaction!
Collecting 478 points out of a potential 500, moods improved by 67% after making a plant purchase. Plants are proven to invoke feelings of vitality by improving the state of mind and lifting spirits – no wonder it scores highly!
With the PS5 still proving hard to get, purchasing a gaming console is the second online transaction that makes us happiest.
As many gamers are left on the edge of their seats waiting to snatch the latest console, it accumulated 475 points out of 500, and purchasing a console was found to raise positive feelings by 66% on average.
In third position are trainer purchases. With the demand for sneakers like Jordan 1s only increasing, those who purchased new trainers reported a 64% increase in happiness, and purchases racked up 472 points.
With bookworms reported to be happier than those who don't read, the transaction that makes us fourth happiest is a fiction book, improving positive emotions by 64% and collecting 470 points.
Due to the huge surge in personal fitness and wellbeing during lockdown, home gym equipment purchases are found to make us fifth happiest! This transaction led to a 63% increase in positive emotions and scored a healthy 468 points.
To complete the top 10 purchases that increase our intensity of positive emotions:
6. Video game: 466 points, +62%
7. Eyeshadow palette: 465 points, +62%
8. Scented candle: 463 points, +61%
9. Exercise clothing: 461 points, +61%
10. Fashion jewellery: 459, +60%
Coming in last is a holiday abroad with 393 points out of 500 (+37%). Those who plan on jet-setting this year reported high levels of excitement and happiness but were pushed down the table as feelings of worry and nerves due to its current uncertainty.
Interested in the reasons behind our vast improvement in positive feelings, money.co.uk spoke exclusively to Lee Chambers, psychologist and wellbeing consultant, to uncover why shopping makes us happy.
"Online shopping has the ability to make us happy through several different mechanisms. Firstly, even in a world of plenty, we are still evolutionarily designed to consider scarcity. Because of this, acquiring new items, especially when discounted or limited, tends to make us happy, the feeling we have satisfied a need and potentially averted a future threat.
Shopping is also an exercise in control. We select from millions of items precisely what we want, and especially in the uncertain times we live in, we know we will get exactly what we have purchased, and it will be delivered straight to us. This control of selection and guarantee of receipt is powerful, as it becomes a defined event. We also build a level of expectation and anticipation from the moment we press the purchase button, as we believe we now have ownership over the item but have a delay until it is with us physically.
From a cultural perspective, we have been conditioned to see shopping as a reward, either an investment in ourselves or for the satisfaction of others. Shopping is likely to activate the nucleus accumbens in our brain, releasing dopamine and motivating us to repeat the behaviour. Buying printed media taps into our desire to better ourselves, gain knowledge, understand the world around us and provide stories and entertainment that can take us on a journey. And let's not forget how lovely they look on your bookshelf on a video call, as books have become a decorative symbol over the past year.
And why do we keep buying? Our brain is adaptive, and shopping can relieve stress, provide entertainment when bored and give us a hit of dopamine. The rewarding feeling will keep us finding new things to purchase, especially since our excitement and anticipation fade once we've received the item."
Catherine Hilley, mobiles expert at money.co.uk, said: "Our research reveals how small purchases can increase customers' emotions in a positive way, something we all need after the past 12 months. With an average 63% increase in positive emotions noted across all top 10 purchases, it seems that shopping online for items such as houseplants, trainers and candles are sparking a lot more joy at the moment, than booking a holiday, which comes with a lot of added uncertainty."
For more information, please see the blog post for the full rankings and a breakdown by sex, and age: https://www.money.co.uk/mobiles/online-shopping-joy
Powered by WPeMatico