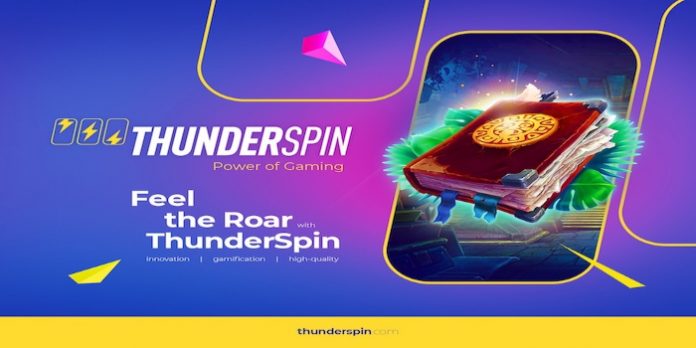 In an age where the most important focus for developers is to continually create engaging games for players and operators alike, ThunderSpin's development process is more akin to Pixar than traditional gaming brands relying on the motto that 'no idea is a bad idea'.
ThunderSpin, a game studio which has launched its own exclusive set of 25+ casino slots, is becoming increasingly renowned for its strategy of putting originality at the fore. With titles featuring everything from Vikings, newborn galaxies and zombies to World Cup football, biblical battles and cowboy snails, the brand's extensive portfolio is all thanks to their one internal rule, 'no clones'.
Commenting on the challenges of ensuring each and every game stands out in the iGaming market, Jeff Letlat, CEO at ThunderSpin, explained: "We have an internal rule – we do not make clones of popular games. Yes, we can be inspired by some kind of game or mechanics or the idea of our competitors, but the game itself will be unique in any case, both in mechanics and in graphics. In addition, our team should primarily like the game too. After all, if inside you feel you are doing what you like – the game will be both memorable and unique."
In its first year, ThunderSpin is driving innovation in a manner more suited to a creative film company or animation studio than to the typical world of reels and slots thanks to a reliance on the beauty of ideas combined with cutting-edge technology. When taking a game from idea to execution Jeff Letlat highlights how ideas can come from anywhere, whilst not mistaking that although some concepts might seem great to the team at the start, the true genius is knowing which ones to take right through to the end.
"Every game in the beginning consists of an idea," he said. "Most often, for starters, the idea consists of just one phrase. I want snails in the Wild West which becomes Snail Town. Or, let's try to connect the slot with betting elements and it becomes World Cup Football Slot. The main difficulty is to combine a good idea with the resources available to us – technical, human, etc."
One of the company's latest games, Book of Treasures, is a prime example explains Jeff Letlat with ThunderSpin's marketing department highlighting the need for a popular theme slot around a central theme. "Combining hunt for treasures and slots is interesting for our players in principle but the magic happens when our team start throwing ideas around. In this case, in the very first brainstorming session all of us sounded almost in chorus: 'Mayan treasures!' It's the conceptualisation that our team thrives on."
For ThunderSpin the regular working process consists of in-house game designers creating prototype mechanics, the Art Department's conceptual sketches and a whole host of programmers, testers delivering details, narrative, etc. After this the project pushes into plans, sprints, deadlines, and an internal presentation to gain first impressions and feedback from colleagues. Detailed external R&D with the company's partners and players follows which helps not just during creation but throughout the game's release according to Jeff Letlat. "We try to listen carefully and consider all of this in the development process. We try to analyse as much as possible in different directions – both the duration of the sessions, and the betting strategies, and the players' returns to their favourite games. And where do they click with the mouse in game clients and much more. Each of our already released games is constantly monitored and analysed, so that we can make each next game more interesting and attractive for our players."
"With development feedback, we listen to everyone," he continued. "Whether it's colleagues, business partners, or players, we analyse competitors, read reviews on the forums and our main focus is our players. Since consumers can be completely different – by gender, age, tastes and preferences – we try to make different games in order to adapt to the most diverse wishes of our players."
The unique portfolio of games from ThunderSpin have all been developed with a strong focus on sound and visual to ensure a strong first impression of the game in the current market where every casino can offer thousands of slots. For Jeff Letlat, it's all about that initial visual appeal and the most crucial attribute for a new concept is to ensure your game is entered into a casino at all. "The ability to stand out is essential so your game does not get lost among a huge pile of the same type and uniform slots," he said. "When creating new concepts the development team are aware that both interesting mechanics and large payouts are all very important in terms of ROI but when developing an idea you can keep the player mechanics, volatility, payouts. To help the player decide to launch your slot for the first time, essentially the visual is King."