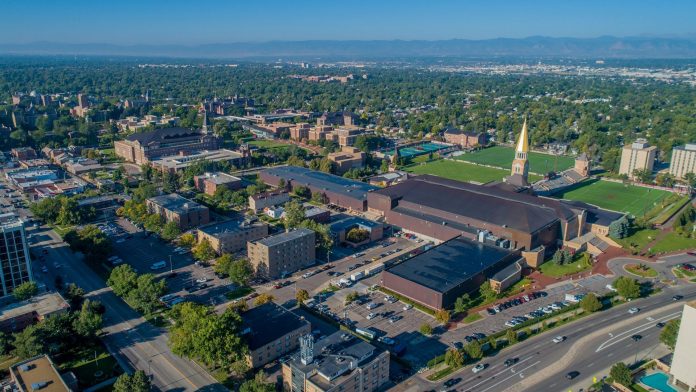 As the Denver Pioneers prepare for a new sports season, Denver Sports Properties has announced a multi-year agreement with its first corporate sports betting partner, SuperBook Sports.
The agreement, facilitated by Playfly Sports, will include branding, media hospitality, and social media assets with a focus on responsible gaming and education for student-athletes.
"The University of Denver is excited about the opportunity to form a corporate partnership with SuperBook Sports. As sports betting continues to become more and more of a passion for our fanbase, we felt that it was important to partner with a local company that we trusted to put an emphasis on responsible gaming. We're also excited about the opportunity for the proceeds of this partnership to directly impact our student-athletes' experience at DU," Karlton Creech, Vice Chancellor for Athletics, Recreation and Ritchie Center Operations, said.
"As we look to grow the SuperBook brand across Colorado and the nation, we see this as the perfect partnership for our company. With their commitment to integrity, outstanding alumni and passionate fan base, we look forward to partnering with DU Athletics for a long time to come. It's a groundbreaking alliance with one of the most prestigious athletics programs in the country, and we can't wait to become a bigger part of the DU community," Kristin Mackey, Head of Marketing at SuperBook Sports, said.
With his longstanding Colorado roots and reputation as the top odds maker in the country, SuperBook Sports' Jay Kornegay looks forward to a meaningful partnership with DU. "Opening the SuperBook in Colorado as our first expansion market has exceeded our expectations. We couldn't be happier that we've grown our presence by partnering with such a respected university and athletics program," Kornegay said.
"Being at the forefront of responsible sports betting in the collegiate space is one of our primary focuses at Playfly Sports Properties. SuperBook has been building a national reputation and record of integrity in this area for decades, and we look forward to incorporating their expertise as we activate this new relationship alongside Denver Athletics," Michael Schreiber, Founder and CEO of Playfly Sports, said.
Powered by WPeMatico