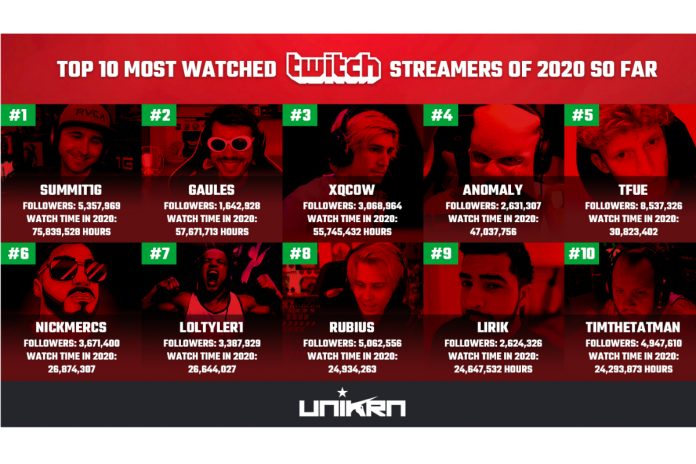 Reading Time:
3
minutes
– Summit1g hits top spot with 75million hours watched
– End of Mixer leaves door open to Ninja & Shroud
– No Myth or Pokimane in top 10 list
2020 has been a strange year — but Twitch streamers have had it stranger than most. The global lockdown has driven huge spikes across the streaming world as these entertainers have been a lifeline for millions of fans looking for company and distraction from the safety of their home.
This led to 101% year-on-year viewership growth in April.
The award-winning esports bookmakers at Unikrn have created a list of the top 10 most watched twitch streamers of 2020 so far.
This comes with this week's news that Microsoft has ditched their own streaming service, Mixer, leaving the door open for some of the biggest streamers on the planet to return to Twitch.
Tyler Blevins, known on Twitch as Ninja, accrued 14 million followers on Twitch before leaving to join Mixer in October last year, but the Fortnite gamer joined other big names such as Michael "Shroud" Grzesiek and Cory "King Gothalion" Michael as free agents with Mixer's collapse.
So, they too could make this list before the end of the year!
Most Watched Twitch Streamers of 2020
10.
TimTheTatman
Name: Timothy Betar
Games: Fortnite, Overwatch, Call of Duty:
Country: United States
Age: 29
The online personality has recently become an icon.
Now with nearly five million followers on Twitch, you may have seen the 29-year-old in the NFL 100 advert at Superbowl LIV earlier this year.
Followers: 4,947,610
Watch time in 2020: 24,293,873 hours
9.
Lirik
Name: Saqib Zahid
Games: PUBG, GTA V, others
Country: United States
Age: 29
Lirik has become well-known for his walkthroughs and guides as well as his competitive multiplayer gaming.
The 29-year-old is the king of variety, trying new games to give his fans a fair review of new opportunities.
Followers: 2,624,326
Watch time in 2020: 24,647,532 hours
8.
Rubius
Name: Ruben Gundersen
Games: Fortnite, Minecraft and others
Country: Spain
Age: 30
Rubius is rumoured to be one of the highest earners on the platform.
It was reported that he was estimated to be earning around $135,000 per video.
Followers: 5,062,556
Watch time in 2020: 24,934,263 hours
7.
Tyler1
Name: Tyler Steinkamp
Games: League of Legends
Country: United States
Age: 25
In January, Tyler1 set himself the challenge of reaching Challenger playing only Jungle on League of Legends 'to prove a point'.
Last month, he achieved his goal, declared himself "the GOAT" and surprising many of his followers.
Followers: 3,387,929
Watch time in 2020: 26,644,027 hours
6.
NICKMERCS
Name: Nick Kolchef
Games: Fortnite, Call of Duty: Modern Warfare
Country: United States
Age: 29
NICKMERCS has long been considered one of the best Fortnite streamers out there.
He's even now got so popular that rapper Drake has publicly given the gamer permission to use his music in his streams.
Followers: 3,671,400
Watch time in 2020: 26,874,307 hours
5.
Tfue
Name: Turner Tenney
Games: Fortnite
Country: United States
Age: 22
Amassing a fanbase of more than 8.5million on Twitch, Tfue now holds the highest number of followers on the platform.
The 22-year-old took a break from Fortnite back in May after calling out the game for being "unfair".
Followers: 8,537,326
Watch time in 2020: 30,823,402
4.
Anomaly
Name: Ludwig Lagerstedt
Games: CS:GO, Valorant
Country: Sweden
Age: 25
Anomaly's figures have skyrocketed in the past few months, much because of his decision to re-stream 24/7 Valorant VODs.
There's nothing wrong with this in terms of how Twitch sees it, though some fans and streamers have taken a disliking.
Followers: 2,631,307
Watch time in 2020: 47,037,756
3.
xQcOW
Name: Félix Lengyel
Games: Overwatch and various other games
Country: Canada
Age: 24
XQC is never too far from the headlines.
The skilled gamer even revealed last year how YouTube wrote to him directly to ask him to never stream with them.
Followers: 3,068,964
Watch time in 2020: 55,745,432 hours
2.
Gaules
Name: Alexandre Borba
Games: CS:GO
Country: Brazil
Age: 36
Gaules has been a sensation on Twitch over the past few months.
The Brazilian broke his own national record of 263,000 simultaneous viewers when he reached a peak of 393,000 viewers hosting the final of the BLAST Premier Spring Finals of North America.
Followers: 1,642,928
Watch time in 2020: 57,671,713 hours
1.
Summit1g
Name: Jaryd Lazar
Games: CS:GO, Sea of Thieves, GTA V and more
Country: United States
Age 33
And 2020's top streamer so far is Summit1g.
Twitch have even gone out their way to lock their most prized asset down by offering the popular gamer a new contract in recent weeks.
Followers: 5,357,969
Watch time in 2020: 75,839,528 hours
Most Watched Twitch Streamers of 2020
| | | | | | |
| --- | --- | --- | --- | --- | --- |
| | Channel | Watch time | Stream time | Average viewers | Followers |
| 1 | summit1g | 75,839,528 | 1,903 | 35,811 | 5,357,969 |
| 2 | Gaules | 57,671,713 | 4,218 | 13,694 | 1,642,928 |
| 3 | xQcOW | 55,745,432 | 1,800 | 28,975 | 3,068,964 |
| 4 | Anomaly | 47,037,756 | 1,148 | 19,808 | 2,631,307 |
| 5 | Tfue | 30,823,402 | 1,071 | 28,012 | 8,537,326 |
| 6 | NICKMERCS | 26,874,307 | 1,146 | 22,386 | 3,671,400 |
| 7 | loltyler1 | 26,644,027 | 985 | 26,468 | 3,387,929 |
| 8 | Rubius | 24,934,263 | 510 | 47,931 | 5,062,556 |
| 9 | LIRIK | 24,647,532 | 1,103 | 21,928 | 2,624,326 |
| 10 | TimTheTatman | 24,293,873 | 865 | 27,126 | 4,947,610 |
*Statistics from Dec 29 2019 – June 26th
Powered by WPeMatico