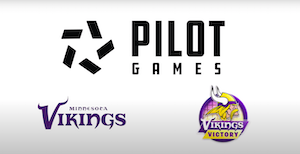 Pilot Games Inc has teamed up with the Minnesota Vikings, a professional American football team, to create the new and exciting Vikings Victory electronic pull tab game, available in over 1200 bars across the state, with huge bonuses available in the "Skol Bonus Game."
Pilot Games is the largest charitable gaming provider in the state of Minnesota and every time customers play the Vikings Victory game, local communities receive much needed donations. Indeed, all of Pilot Games' huge catalog of games helps communities across the state and have helped raise hundreds of millions to help much-needed projects.
The Minnesota Vikings are a professional American football team based in Minneapolis. The Vikings joined the National Football League as an expansion team in 1960 and first took the field for the 1961 season.
Powered by WPeMatico