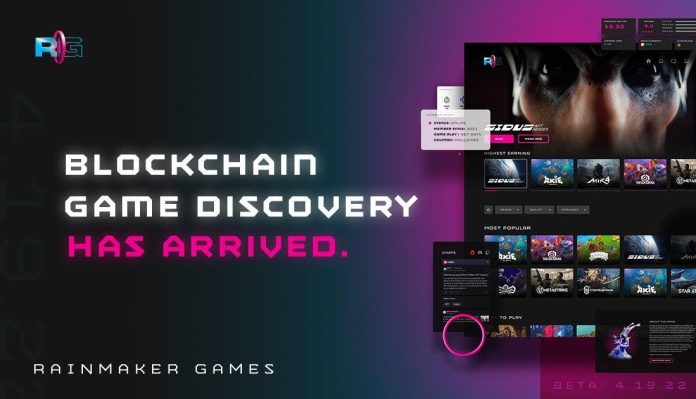 Rainmaker Games announces the beta launch of the first-ever Discovery Platform for blockchain games, connecting millions of gamers to the latest Web3 games each week.
Rainmaker's beta platform — backed by notable investors such as CoinFund, Polygon Studios, Alameda Research, Animoca Brands, and others — initially tracks over 150 trusted blockchain games, including Axie Infinity, Splinterlands, Thetan Arena, Cyball, League of Kingdoms. The platform offers expert reviews, technical details, earning potential statistics, video content, and other data points crucial to gamers. Powered by Rainmaker's proprietary game data, the Discovery Platform will enable gamers to find games based on such categories as top-rated, most popular, free-to-play, highest yield, blockchain protocol, etc.
The launch comes as a recent Statista survey of gamers in the United States found that six in ten respondents were considering engaging with play-and-earn practices to earn rewards in the metaverse.
With the GameFi industry constantly expanding with new titles and new users, there has been a 92% increase in the number of blockchain games launched over the past 12 months. According to Reddit founder Alexis Ohanian, monetized gaming is tipped to be the trend of the future, with 90% of all games expected to pay users for playing them within the next five years.
Yet, until now, it has been difficult for users to identify and differentiate the variety of offerings in the blockchain gaming space. Information has often been hard to come by and is often highly curated by the game publishers themselves. In effect, it has been an uphill battle for new players to know what they are getting into, and few resources exist to help.
Rainmaker Games' Discovery Platform, which already has over 1 million on the waitlist for access, fulfills a much-needed gap in the market with its community-driven, user-generated content — allowing users to review games, chat with other players, and build communities around their favorite games on message boards.
Each game will be rated and reviewed through the service by a team of 50 players and 2000 guild members, providing much-needed gaming data that is essential for informing newcomers and is currently missing from the growing blockchain industry. The platform is emphatic about going further than just labeling games as "blockchain-powered," it additionally wants to provide precisely what information is most beneficial for both game publishers as well as audiences and the broader community.
Social network activity from Twitch, Reddit, and Twitter is also integrated directly into the game information pages, providing context for what's going on across the larger web communities. The data provided by Rainmaker's Discovery Platform can also help gamers be confident that the games listed are legitimate and community-approved when listed on Rainmaker.
The blockchain gaming search engine is led by CEO and Co-founder Will Deane, a serial entrepreneur, and CTO Jon Kennell, previously a software engineer with Google.
"With our Beta launch, Rainmaker is now the premiere discovery platform for gamers to access information about all the best blockchains games," shared Will Deane, CEO, and Co-founder of Rainmaker Games. "We believe the ability to discover new and exciting titles and an overall great UX is the key to bringing P2E games to the mainstream gaming community. Rainmaker Games is poised to have a ubiquitous, Netflix of games-type influence."
Deane continued, "Bringing the world of blockchain gaming together from across different chains, platforms, and ecosystems into one sleek, user-friendly interface is no small task. Our internal team of designers and engineers are gamers and blockchain enthusiasts who understand how to prioritize the user experience for both groups and know what information gamers want to know before investing their time and money into the blockchain gaming space."
Rainmaker serves not only the specific needs of games publishers who seek audiences for their products but also of users who search for products and an understanding of the space and of a community that values each other's contributions.
New games will be added to the platform's database every week, with new features set to launch regularly, such as game guides and a rewards system to enhance the user experience.
Powered by WPeMatico