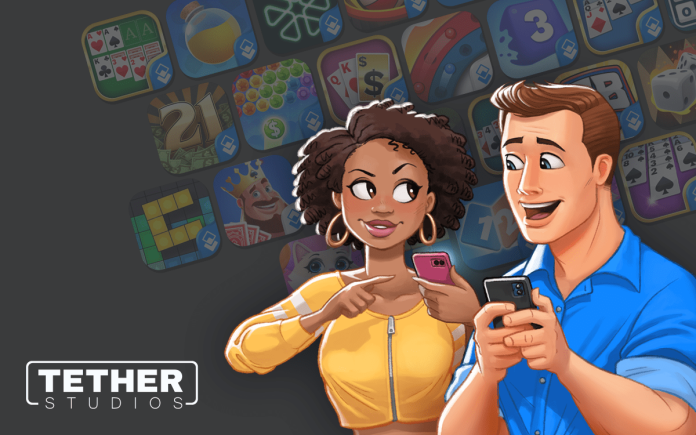 Tether Games, the world's leading independent developer of skill-based games, announced record growth in the skill-based gaming sector last year, including taking its total catalog up to 27 titles that have been downloaded by over 30 million players. In 2021, Tether Games reached a significant milestone, achieving $250 million in total gross lifetime revenue for the company. Since launching its first title in 2016, Tether Games first came to market through its publishing partnership with Skillz. To continue its growth trajectory in 2022, Tether will soon announce new titles that will push the boundaries of skill-based games to new genres and new audiences.
While the esports industry at large grew to over $1 billion in 2021 (Newzoo), the mobile sector within this industry has also grown worldwide, even outpacing console and PC competitive gaming. Tether Games believes that industry reports are undercounting the growth of mobile downloads and revenue in skill-based gaming by up to 60%, based on the company's own internal data on player engagement and spend.
Tim O'Neil, Co-Founder and CEO of Tether Games, said: "There's a tremendous opportunity in the skill-based gaming sector right now, as players of all kinds are embracing casual competitive games for their phones and tablets. We've seen a record rise in tournament matches and deposits over the past year, and now we're hiring more developers, designers, artists and product managers to keep up with the pace of content needed and the increasing appetite of players for competitions."
Aletheia O'Neil, Co-Founder and COO of Tether Games, said: "Skill-based games are about casual competition between players. While traditional eSports generate more buzz with their big-budget broadcasts, we're making bite sized competition accessible for everyone, and this is part of why the mobile skill game market is being overlooked right now. We founded Tether Games based on our experience as semi-pro gamers… who grew up, had kids and didn't have the time anymore. We're giving everyone a chance to put something on the line and enjoy the thrill of competition, a few minutes at a time."
Tether Games' catalog of skill-based games offer players head-to-head competitions, alongside large multi-entry tournaments and bracket-based tournaments. Players can join multi-round tournaments for the chance to earn cash rewards as well as other prizes, including trophies.
Powered by WPeMatico