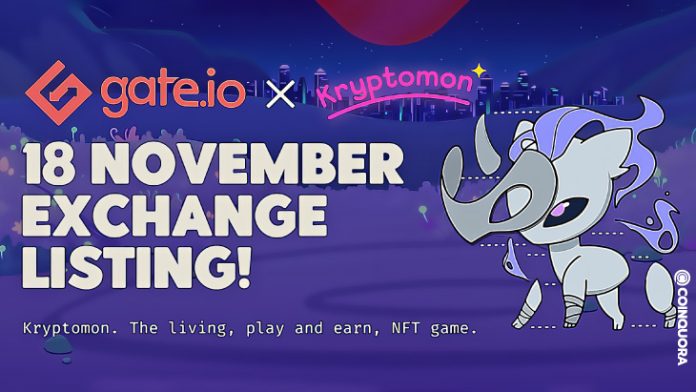 Reading Time:
2
minutes
Kryptomon is pleased to announce its token $KMON on Gate.io, following the sale of its first Legendary Kryptomon for an eye watering $49,700 in the first ever Kryptomon auction, the Kryptomon team seem to have no intention of resting on their laurels.
In an overwhelming outpouring of support from Binance users worldwide, not only did all 2000 Kryptomon Mystery Boxes sell out on the BinanceNFT marketplace in a reported 0.27 seconds, those same mystery boxes have generated a trading volume of almost $1M on the secondary resell market just days after listing.
With that string of achievements, it wouldn't be surprising if the Kryptomon team took a short break to pat themselves on the back for a job well done. That's not the case however as the Kryptomon team don't seem to show any signs of slowing down. In addition to the recent release of their new Whitepaper and website, they've recently announced their partnership with a Tier 1 Centralized Exchange (CEX) – Gate.IO.
Umberto Canessa Cerchi, Founder and CEO of Kryptomon, commented on the new listing: "We are proud to announce our first listing of our KMON token on a centralized exchange, and as we promised to our community, we believe that our existing and future investors will enjoy the various trading benefits and features that our top-tier partners Gate.io offer on their amazing and advanced exchange, and that our community's trading and investing experience will improve substantially by using Gate.io's mobile trading apps and advanced desktop browser trading platform."
Making KMON Accessible To All
On the 18th of November 2021, users will be able to trade the KMON token directly on the Gate.IO platform. As one of the top 10 centralized exchanges in the world that handles an average trading volume of $2 billion every day, Gate.IO is an excellent partner for Kryptomon's first listing of its KMON token on a CEX. Not only will this introduce Kryptomon and the KMON token to Gate.IO's 8 million strong user base, but will also pave the way for future players to easily purchase KMON tokens directly on Gate.IO without the hassle and risk associated with DeFi trading.
In addition, due to its long time partnership with fiat-to-crypto gateway company Simplex, the Kryptomon team is looking to bring forward their plans of integrating Simplex into the game before the end of 2021. This will once again make it much easier for millions of potential gamers and investors everywhere to get started as trainers will soon be able to make all Kryptomon related purchases (KMON, in-game powerups etc) directly in the game using their debit/credit cards, similar to popular games like Clash of Clans and PUBG today!
A Pioneer in the Crypto Gaming space
A common hurdle for crypto games today is its inaccessibility. A full 98% of gamers worldwide are not crypto-savvy enough to navigate the intricacies of DeFi, thus limiting their exposure to many up-and-coming crypto games.
Powered by WPeMatico