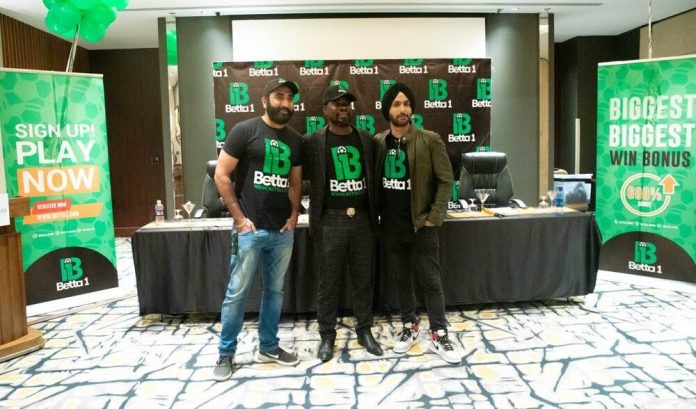 Reading Time:
2
minutes
The first fully Zambian-owned betting company Betta1 was launched in Lusaka at Sarovar Hotel.
Betta1 country manager Ray Phiri said in his briefing that Betta1 has been brought to the Zambian people for their enjoyment, money-making, and leisure. He further on went to distinguish how unique the Betta1 platform is from other betting platforms already operating in the country. He said that Betta1 has over 30 sports events, including Formula 1 racing, Ice Hockey, Tennis, Football and many more.
Mr. Phiri went on to talk about the various games on the platform, from the live clubhouse section with mathematical games that require one to think, to virtual games, slot games and rare games like Aviator and Rocketman that has recorded a lot of wins from the Zambian people already betting on the platform.
Mr. Phiri emphasised the highest winning bonus of 600% that Betta1 has brought to the Zambian people, explaining why Betta1 decided on that approach; by stating that Betta1's goal is to bring the most effective, most entertaining, and most profitable solutions to the Zambian people.
Mr. Phiri said that the entire Betta1 interface was created with the Zambian people in mind, and that's what makes Betta1 a proudly owned Zambian betting company. He concluded by thanking the Zambian government, the Ministry of Finance and the President of the Republic of Zambia Mr. Hichilema Hakainde for the good policies they have put in place that allow for economic stability and attract investors both locally and internationally, which adds to the country's economic development.
The other keynote speaker was Betta1 CEO Angad Chhabra who started off by congratulating the Betta1 team and the Zambian people at large for producing what the people are calling the cream de la cream, as well as being the only betting company with its origin from Zambia. Chhabra praised Zambia's peaceful environment, and the economic system in place, which makes Zambia a grand destination for investment in Africa.
He further on went to say that the Zambian people can only expect excellence and good service delivery going forward, and the company's focus is providing jobs for the Zambian youth who are disfranchised and excluded from leadership opportunities. Chhabra concluded by appreciating all partners and clients who have come on board to partner with Betta1 and welcomes every Zambian over the age of 18 to start betting on the Betta1 platform for an enjoyable, profitable, and lasting betting experience.
Also speaking was Zambian renowned musician Moses Wesley Chibambo, popularly known as Dandy Krazy, who expressed his happiness and excitement to associate with a Zambian-owned betting company that has its core values centered on providing job opportunities for the Zambian youth.
Dandy Krazy went on to say that Betta1 is something extraordinary and exclusively created for the Zambian people to benefit, as people can bet from as low as K1, and stand a chance to win up to a 600% win bonus, which is the highest in the country proudly brought to the Zambian people by a Zambian owned betting company.
Powered by WPeMatico