David Koechner Returns as the Vice-President of Party in New Harrah's Cherokee Casinos Ads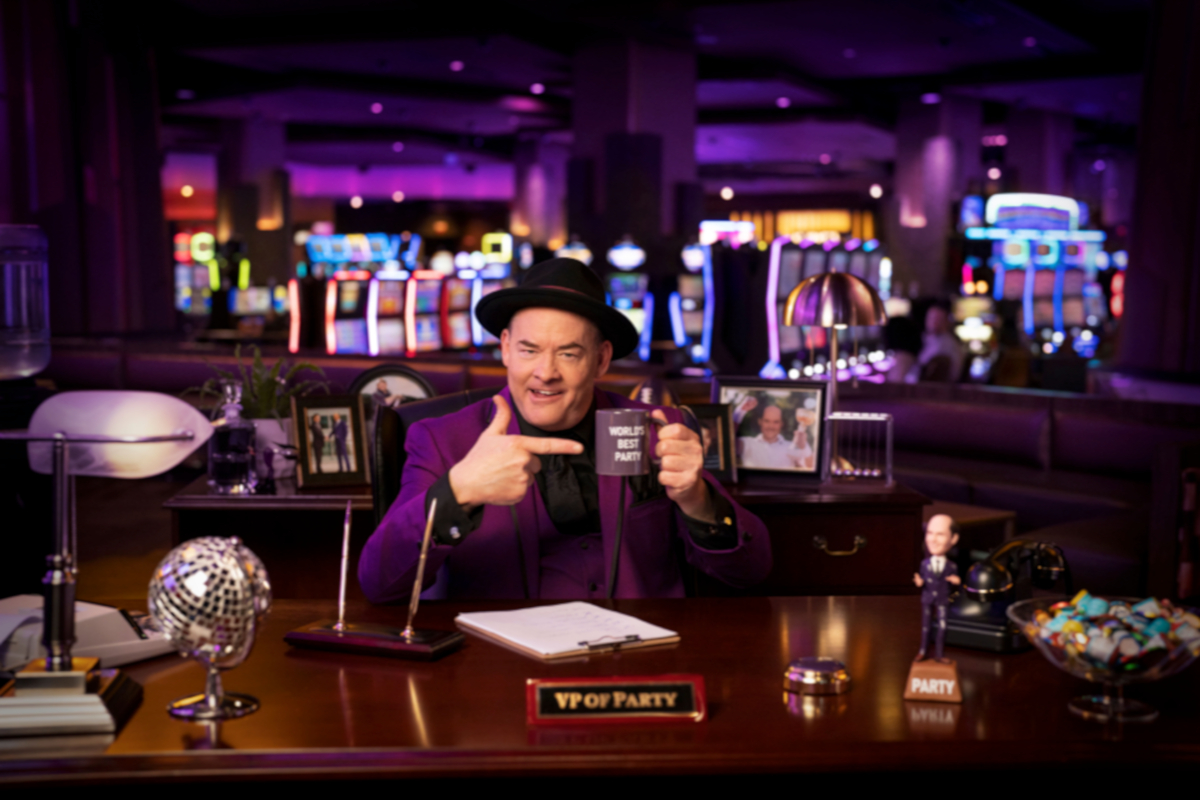 Work for the Vice-President (VP) of Party never ends. With Harrah's Cherokee Casinos' October release of new ads by full-service marketing agency 62ABOVE, celebrity spokesperson David Koechner's 'VP of Party' role has evolved to ensure casino goers 'bring the party'.
In its latest Put on Your Party Hat campaign, Harrah's Cherokee Casinos continues its partnership with renowned actor and comedian David Koechner, known for his memorable roles in hit movies and television shows such as Anchorman and The Office. Donning a sleek suit and matching fedora, Koechner brings his unique brand of humor and charisma to the role of the VP of Party, promising guests an extraordinary casino experience.
"Our new ads continue to offer a glimpse of the world-class amenities that guests can experience with us, all playfully illustrated by our VP of Party," the Regional Vice-President of Marketing for Harrah's Cherokee Casinos, Brian Saunooke, said. "It's exciting to see the evolution of our Party Hat campaign with the addition of Koechner who continues to deliver inspiration to viewers to have the fun they deserve at Harrah's Cherokee Casinos."
The new television spots open on the VP of Party's executive-style desk before cutting to Koechner inhaling a burger, lounging in Harrah's signature-purple bathrobe and inspiring guests to party their pants off, literally. Koechner's upbeat delivery, swagger and sense of humor are highlighted throughout the ads as he ventures through various resort offerings like Myst Bar, Caesars Sportsbook, Guy Fieri's Cherokee Kitchen + Bar and the casino floor slots and tables.
"62ABOVE called upon our decade's worth of casino marketing experience to create these fun ads that are in sync with Harrah's advertising and yet unique to Harrah's Cherokee," the President for 62ABOVE, Greg Carson, said. "By using David Koechner to personify the party experience at both casinos, we were able to put a face and personality to the guests' excitement at Harrah's Cherokee Casinos."
Guests of Harrah's Cherokee Casino Resort located in Cherokee, North Carolina, can continue to step into Koechner's purple party shoes and promote themselves as the VP of Party until January 2, 2024. The resort offers casino goers the opportunity to sit at the VP's desk and take social media-worthy photos using the same props provided to Koechner including a disco ball, party hat and World's Best Party mug.
The integrated campaign continues to run across all media channels including television, digital, social media and outdoor display in markets throughout North Carolina, South Carolina, Georgia and Tennessee.
Creative Credit (62ABOVE):
Executive Creative Director – Greg Carson
Executive Producer – Pierce Cooley
Creative Director – Erik Dargitz
Art Director – Christian Capuchino
Copywriter – Nic Orangio
Production Credit:
Production – Chirp Films
Director – Doron Max Hagay
DP – Arlene Muller
Editorial – Orphan Editorial
Editor – Paul Plew
Still Photographer – Sally Montana