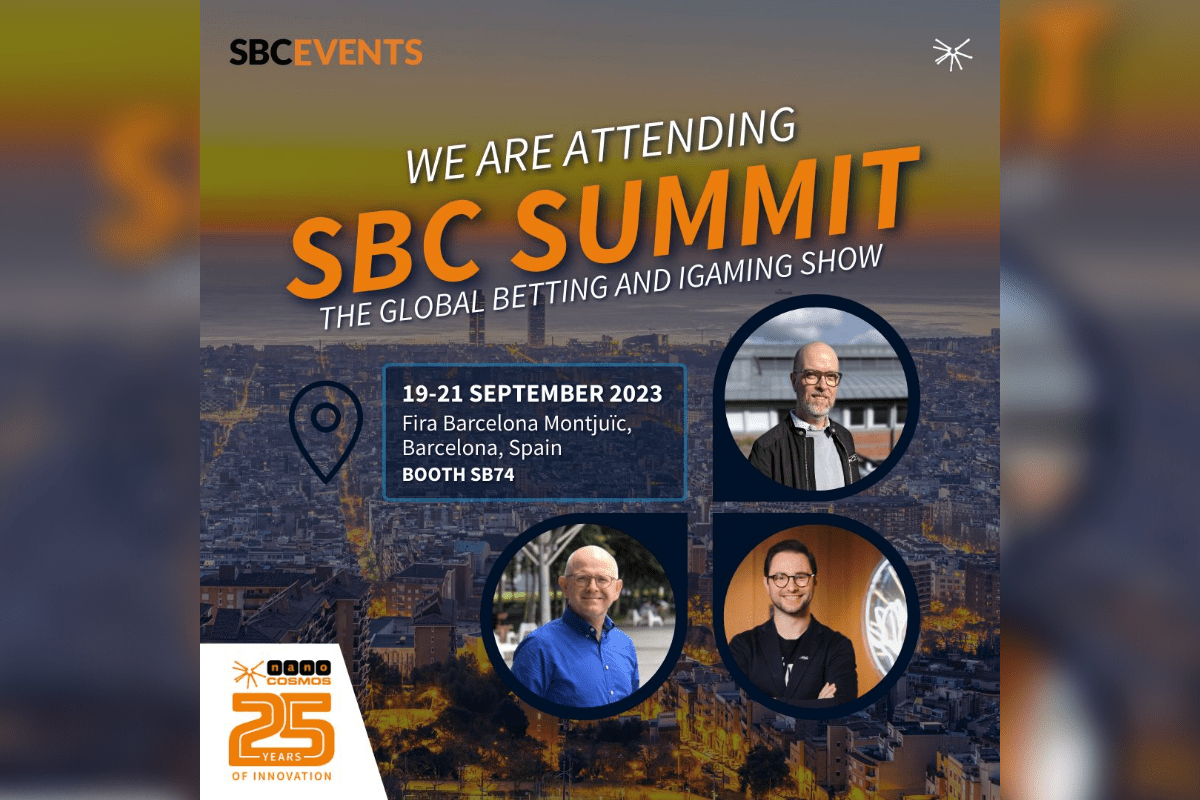 Reading Time:
3
minutes
B2B Interactive live streaming provider nanocosmos will showcase the new version at the international gaming show SBC Barcelona 2023.
nanocosmos, a pioneering B2B interactive live streaming provider, is set to dazzle the global gaming and betting industry with the unveiling of nanoStream Cloud 2023 at the prestigious SBC Barcelona 2023 trade show. The event, taking place from September 19 to 21, 2023, will provide a stage for nanocosmos to showcase their cutting-edge innovation at booth SB74.
nanoStream Cloud 2023 represents a leap forward in real-time streaming technology, addressing the demand for high-quality, real-time streaming anywhere anytime in the iGaming, and sports betting sectors. This comprehensive solution leverages a robust content delivery network, an adaptive sub-second latency player, state-of-the-art security features, advanced analytics, and seamless integration capabilities.
The standout feature of this release is the optimized start-up time, particularly beneficial for use cases like live gaming, where instant access to streams is crucial as the engagement with a game can be short and players will be moving from game to game. Yet, High quality live streaming with smooth interaction starts with a solid reliable global CDN. By introducing intelligent edge computing for nanoStream Cloud's CDN, nanocosmos added an extra layer for uninterrupted connectivity and to support smooth viewing experience 24/7/365. This year's global CDN enhancements target new growing areas for iGaming operators in Asia, Africa and South America.
A suite of enhanced APIs, designed to streamline live streaming, messaging, and analytics workflows, will be showcased for flexibility and customization options like dynamic recording and thumbnail generation.
An all new dashboard is now available simplifying the user interface and enhancing the overall user experience. Under the name "stream health" nanoStream Cloud Analytics' now proves maturity with valuable insights and quick access to identify, fix and improve stream performance. This responds to the current demands for high quality real-time streaming to be available everywhere anytime.
Commenting on the launch, Oliver Lietz, Founder and CEO of nanocosmos, said, "nanoStream Cloud 2023 marks a significant milestone in the world of real-time streaming. We are thrilled to unveil this innovative solution at SBC Barcelona 2023 and demonstrate how it will transform the gaming and betting experience. With lightning-fast streaming, enhanced accessibility, and unmatched stability, nanoStream Cloud 2023 is poised to set new industry standards."
nanocosmos invites all attendees of SBC Barcelona 2023 to visit booth SB74 and experience the future of interactive live streaming with nanoStream Cloud 2023. On Wednesday, September 20, 14:40 – 15:00, founder and CEO Oliver Lietz will share his expertise at the panel "Creating engaging iGaming experiences with real-time live video streaming", Track: Future of Casino & iGaming on Conference Stage 3.
Key Highlights of nanoStream Cloud 2023:
Optimized Start-up Time: With an emphasis on instant access to streams, nanoStream Cloud 2023 ensures lightning-fast start-up times, particularly beneficial for live gaming scenarios.
Global CDN Enhancements: nanocosmos has bolstered its global content delivery network (CDN) to provide uninterrupted connectivity in emerging markets across Asia, Africa, and South America.
Enhanced APIs: nanoStream Cloud 2023 introduces a suite of enhanced APIs to streamline live streaming, messaging, and analytics workflows. These APIs offer greater flexibility and customization options, enabling seamless integrations and advanced features such as dynamic recording, thumbnail generation, and support for WHIP, SRT, and nanoStream H5Live for ultra-low latency streaming.
Cutting-edge Protocols: The platform now supports cutting-edge protocols like QUIC, HTTP/3, and WebTransport, offering faster, buffer-free streams, adaptive bitrate streaming, and improved network statistics.
SRT-Plugged Badge: nanoStream Cloud 2023 is compatible with over 15 live encoders, ensuring high-quality stream ingest with industry-standard technology.
nanoStream Guardian: A new addition to the platform, nanoStream Guardian, empowers users with insights into IP addresses and referrals, enabling swift action against unauthorized access.
Meetings can be booked at https://info.nanocosmos.de/sbcbarcelona/.
For more information about nanocosmos and nanoStream Cloud 2023, please visit https://www.nanocosmos.de/blog/2023/08/introducing-nanostream-cloud-2023/
Throughout the month of September, nanocosmos is sharing a documentary series #ThrowbackTime about their journey and innovations https://www.youtube.com/@nanocosmos .