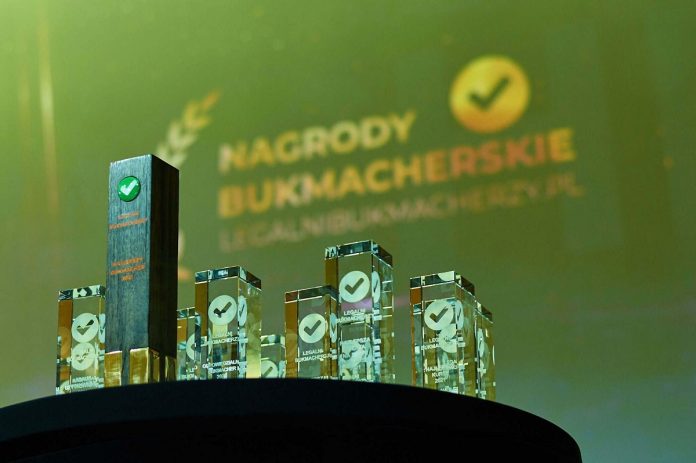 Reading Time:
2
minutes
At the end of January 2022, for the fourth time in Warsaw, a prestigious event in the sports betting industry was held. It was organized by the iGamingNuts company and experts of the LegalniBukmacherzy.pl website. The annual Bookmakers' Awards is the greatest of its kind in Poland.
Throughout the year, specialists from LegalniBukmacherzy.pl assessed the activity of bookmakers in the most important areas for this business. This year, 15 categories of awards were distinguished: Bookmaker of the Year 2021, Bookmaker debut of the year, Responsible bookmaker, The best customer service, The best marketing, The best speedway offer, The best football offer, The best combat sports offer, The best tennis offer, The best esport offer, The best ski jumping offer, The best Live Bets, The best Mobile App, The best Odds and finally Users' award. The last prize was awarded by internet voting. Appreciation of the products and services offered by the customers themselves is one of the most valuable distinctions.
There were 12 bookmakers among the main nominees. Ultimately, 7 of them won statuettes. On the organizers' website there are all the justifications for the selections in each category. The greatest triumph was recorded by Fortuna Poland, which won as many as 5 awards. One of them was the main prize for the Bookmaker 2021. Moreover, they were awarded for: The best combat sports offer, The best tennis offer, The best ski jumping offer and for being a Responsible bookmaker. The company's commitment in charity work for the benefit of others was appreciated. The second place in the number of prizes was taken by Superbet Poland with 3 wins, for: The best marketing, The best Mobile App and Users' award.
This year's edition of the Gala was traditionally hosted by the polish well-known sports journalist Jerzy Mielewski. The guests were representatives of the nominated companies and people related to sports, e.g. former footballers of the Polish national team Slawomir Peszko and Sebastian Mila.
IGamingNuts CEO Adam Bieliński said: "This annual Bookmakers' Awards Gala continues to strengthen our leading position on the Polish market. The bar is set higher and higher from year to year, because the market is still developing and the competition is huge. I am glad that we can organize this event, provide the highest quality and set trends."
Video of the event: https://youtu.be/jZvbjomCdHg
Powered by WPeMatico