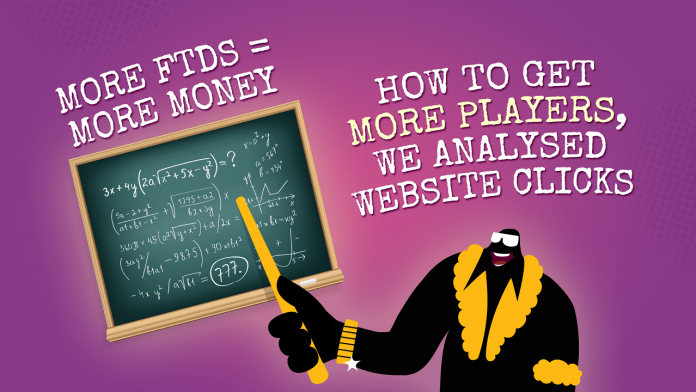 Reading Time:
2
minutes
First-time deposit (FTD) conversion is a commonly used customer acquisition metric in the iGaming industry. It is calculated by dividing the number of unique visitors to a site by the number of first-time deposits. The click-to-conversion rate gives a strong indication of the effectiveness of a casino's CRM processes. Hence, it is one of the most important metrics for operators to follow.
We analyzed over 600 casinos and 200,000 clicks to determine how operators can increase their FTDs. Here are six tips that you can implement immediately to increase your conversions.
Note: We only included casinos with 100+ clicks in our analysis to increase the power of our study.
Banking options
Reducing friction during the registration and deposit process is one way operators can substantially increase their FTDs. We noticed that the easier and faster the process is, the more willing players are to deposit money to the casino.
If you want to increase your FTDs by up to 14%, offering fast payment methods like Trustly and Skrill is a great way to start. In addition, operators should also support popular local banking options, which vary between countries.
Bonuses
It's no secret that players love casino bonuses. The bigger and better the bonus is (or the more free spins are included), the more eager players are to sign up to the casino to make their first deposit.
Of course, operators should also think about what makes business sense to them, but casino bonuses have by far the biggest impact on FTDs. We have noticed that the number of FTDs per click can increase by up to 45% when casinos offer attractive bonuses.
Bonus terms
Players are far savvier about bonuses and bonus terms in 2021 than they were in the past. Nowadays, players know to look for the Terms and Conditions of the bonus to distinguish great bonuses from bad ones. That's why we recommend offering low wagering or even no wagering bonuses to increase FTDs by up to 22%.
Besides lowering the wagering requirement, operators should offer a wider range of games to their customers. Many players aren't interested in depositing if they can't play their favourite games with a bonus. It's also worth noting that some players don't want to claim a bonus if they can't choose their bet size. When casinos remove betting limits, we see a substantial increase in conversions consistently.
Withdrawal time
Withdrawal time is another factor that impacts FTDs. The modern player wants to cash out their winnings as fast they can, and many players shun casinos with longer withdrawal times. We have seen that shorter withdrawal times can increase FTDs by up to 10% from analyzing hundreds of casinos.
Minimum deposits
Operators need to lower the barriers of entry for players. We repeatedly see a significantly better click to FTD rate when casinos allow players to deposit as little as £1 to £5 or the equivalent amount in dollars or euros. Offering low minimum deposit options alone can increase FTDs by up to 18%.
Game selection
Unfortunately, many operators underestimate the impact the game selection has on conversions. Many players have their favourite casino games and slots, and if they don't see them featured in a casino, they are reluctant to make a deposit. As casinos add popular game providers and casino games to their game portfolios, we consistently see an increase in the number of FTDs (up to 16%).
That concludes our study. We hope that this analysis gave some food for thought for operators and affiliates alike!
Powered by WPeMatico