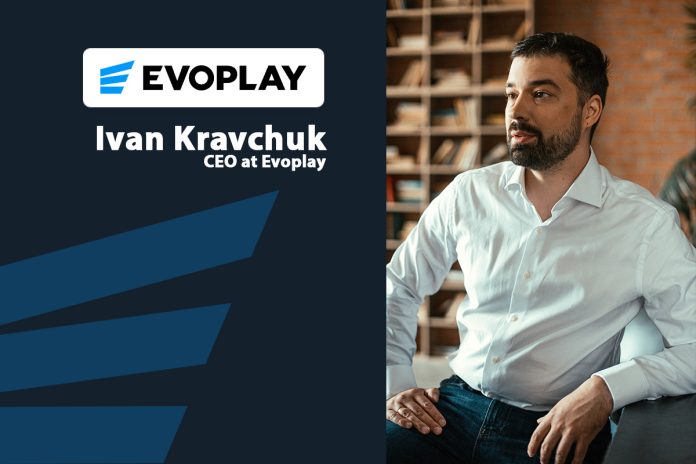 Reading Time:
4
minutes
Slot studio Evoplay has gone from strength to strength over the past six months with some fantastic new titles as well as celebrating its debut across MGA markets.
Ready for the World Cup and an exciting few months ahead for the company, we sat down with Evoplay CEO Ivan Kravchuk to talk through their CEE team's perseverance, as well as overcoming the challenges that have made the studio such a standout brand today.  
Evoplay has performed fantastically so far this year expanding into multiple new markets – despite the challenges faced in Eastern Europe and Ukraine for your team, how have your team persevered?
The beginning of the war wasn't an easy time for us and our team, but we managed to overcome the difficulties and continue our story as an outstanding provider of some really fantastic games. In order to do that, we really needed to summon a lot of resources in order to quickly adapt our operations to quickly and ensure the safety of our employees.
Our people are what we value the most, and that is why our first measures were focused on relocating employees to a safe place. As part of our contingency plans, we relocated 15% of our staff to our main office in Cyprus, and opened a new office in a safer area part of the country – in Lviv, the west of Ukraine. Accommodation, transfer, and any other support were our main priorities as we wanted to provide our people with a helping hand at this difficult time.
I am very proud to work with such compassionate and courageous people as from the first days of the war, they have participated in many volunteering activities, and I believe we as a country will return from this stronger than ever.
Following on from an outstanding year of success in 2021, which saw you awarded with SBC Leader of the Year as well as the launch of Star Guardians, how has Evoplay built on its momentum during the first six months of this year?
Star Guardians was presented to the iGaming industry at the end of 2021, so the first half of 2022 was also focused around entertaining players around the world with the release, with the futuristic title snagging two awards at this year's CasinoBeats Game Developer Awards. As a revolutionary product, it's received sos much positive attention not only from players and casino providers but also from our team. I should also mention Star Guardian's artbook and comic book – which were both released this year – have become an unprecedented offering in the industry, and a fan favourite
Of course, Evoplay never wants to rest on its success, we have an 'eternal engine' which keeps pushing us to create something new, investing in innovations that other developers are afraid of. During the half-year period, we launched 12 products, supercharging our titles with Bonus Buy, Jackpot, and other gamified features that challenge the traditional concept of gaming. To illustrate this, our April release Goblin Run is an industry-first crash game that turns gameplay on its head to offer something fresh. We totally deviated from the classic crash-style game scenario, creating a fully-fledged storyline with a protagonist, antagonist, an opportunity to change skins, all played out with a very the impressive range of settings for a 3D game.
2022 has also been marked by entering into new partnerships with outstanding representatives of the iGaming business, while we also received a letter of recognition from the MGA and Italian certification for our 62 titles.
Looking to gaming trends – what's in demand from players right now? What kind of gaming experiences are players looking for now that we're truly post-pandemic?
More traditional demographics still choose retro-styled slots, while new generations are thirsty for unconventional products and immersive gameplay. At the same time, even retro games fans can find a fresh gaming experience and innovation with retro slots – if they offer something new. That is why we take a new look at classic slots and reconceptualise them with additional features such as multiplayer modes, Bonus Buy, jackpots, etc.
I'm very proud of our team and I believe Evoplay's uniqueness lies in its ability to deliver excellent, high-quality products for both categories. One of our most commercially successful games is Fruit Super Nova which delivers an old-school ambiance, while Star Guardians offers futuristic take, and both of these are spectacular examples of our diverse product offering. That, I believe is what is key to catering to player demand right now – it's all about multiple themes that can engage and excite.
With the World Cup on the horizon, we no doubt expect Instant Games to again perform strongly with sports fans looking for additional entertainment. How is Evoplay looking to capitalise on this, given your heritage for Instant Games?
We are well-prepared for the World Cup as we already have an exciting package of titles dedicated to football on our teamsheet, all with a host of exciting features available that we've created to wow fans! Currently, we're working on a new sports-themed title, which is set to win the audience of bettors and instant games fans who have always been our focus of interest. Not to give too much away, suffice to say, it will be a game delivering a multiplayer experience and a completely new level of betting excitement. We see it as the next all-time hit in the vertical of sports-themed games and we're looking forward to seeing what sports fans make of it.
Last but not least, one for our readers – with Star Guardians still proving to be a one-of-a-kind hit with players – what's up next for Evoplay's next flagship game?
Our current flagship game, Star Guardians, is still among ours and ours players' favourites, so we keep giving it attention, fleshing out its promotional activities and enhancing the gameplay in real-time with user feedback. It's a launch that has meant to us, and we're here to keep evolving the game to entertain players even more.
On to the next big news, I'm sure plenty will be delighted to hear that our team has already started developing a conceptual idea for our next flagship game, and we can't wait to see the result, so stay tuned! We also have several ambitious games in the pipeline, aimed at targeting a real variety of players. One of our primary goals is to extend our audience reach with sports bettors and Esports fans, as we know exactly what kind of exciting fast-action gameplay they're looking for, being players ourselves. Our job is now to create that for the gaming world!
Powered by WPeMatico