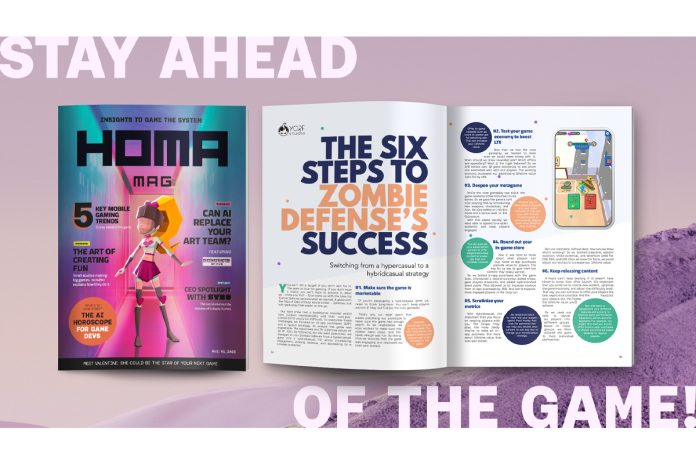 Reading Time:
2
minutes
Homa, the world's leading mobile game publisher, is thrilled to announce the launch of Homa Mag. This cutting-edge magazine aims to provide game creators and industry professionals with premium content to unlock their creativity and stay ahead of the game. With a limited print version, and free and available to all online, Homa Mag offers insightful articles, interviews with top players in the industry, tips and best practices for ideation and game creation, updates on the latest trends, fun activities, and much more.
"In an ever-evolving industry such as mobile gaming, game creators face the challenge of keeping up in a landscape where new technologies, trends, and player expectations emerge regularly," explains Daniel Nathan, CEO of Homa. "In this sense, developers should continuously enhance their skills, learn new techniques, and be on top of the industry trends. This is the only way to navigate this dynamic environment and create the best games at the right time, and for the correct audience."
In the last few years, Homa has put much effort and resources into building Homa Academy. In this free learning hub, game creators can find practical and actionable training and support for all things related to mobile game development. Now, with Homa Mag, the company extends its commitment to education, ensuring that game creators and industry professionals have access to premium content that empowers them to reach their full potential in launching successful games.
The first edition of Homa Mag features important and influential players in the industry, such as Deconstructor of Fun, and Mathias Gredal Nørvig, CEO of SYBO, the creators behind Subway Surfers. These, and other collaborations, ensure that readers will access exclusive insights and expertise from some of the biggest names in the mobile gaming industry.
Also included are pieces around the world of hybridcasual games, the top 5 trends in mobile gaming, tips from game developers for game creation, a guide with steps to become an ideation master, and much more.