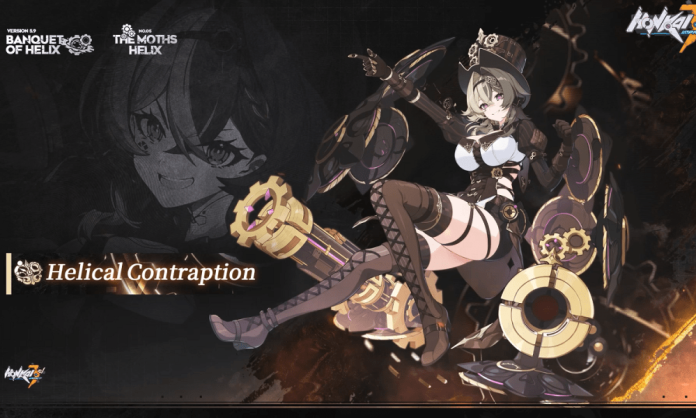 Reading Time:
2
minutes
The Honkai Impact 3rd team announces that the action game will be updated to v5.9[Banquet of Helix]on August11. Ready for a steampunk style feast for the eyes? Meet our new character, Vill-V, or Vill-Vs –eight personalities in one body, crazy and chaotic. She performs the magical show with turrets and chariotthat deal devastating damage with smashing firepower. Besides, Story Chapter XXXI will come alongside the version update, leading the journey to the very end. Lastly, Captains will be able to enjoy a full list of summer events in v5.9, and to gain cool and refreshing outfits for Valkyries!
Honkai Impact 3rd is set in a modern world corrupted by mysterious energy known as Honkai. A tenacious resistance formed by Valkyries, brave girls carrying anti-Honkai genes, leads humanity in a war of survival and fights for everything that is beautiful in the world. Since its launch on mobile devices, the game has won an international following and frequently topped App Store's and Google Play's download charts. The game was ported to PC in late 2019 with cross-save support, making the Honkai-verse more accessible than ever!
The Hyperion is going to become a lot livelier, for that Vill-V, or Vill-Vs, will be on board! With
eight personalities living in one shell, her temper, facial expressions and voices shift from time to time, all different and unique. She can be the Scholar, the Expert, the Great Magician, etc. Moreover, she is also the engineer that ceaselessly strives for perfection, carrying the confidence and willpower that exceed humanity. Vill-V fights alongside her turrets and chariot, while making incredible in-air moves on the battleground. Her extraordinary weapons that consist of pinions and gears, power tubes and dashboard can slash enemies like mowing down grass. Audience, attention! Don't be blown away by the flabbergasting show.
The plot of Elysian Realm has been a non-stop excitement, especially after Mei uncovered the secret of the 13th Herrscher. As the evil mastermind hides no more behind, all threads are now leading to the end. The stage is set and the actors are ready. An inevitable and fatal duel lies around the corner! The whole story line of the upcoming Story Chapter XXXI would take about three to four hours to complete, making it the longest in the history of Honkai Impact 3rd. Apart from the story update, there will also be new areas in the Open World map, where tons of treasure and challenges await.
In the season of sea and island breeze, Captains will be able to dive in a series of summertime limited events back-to-back! The 13 Flame-Chasers will stay as guests and embark on a fabulous adventure ona holiday island. Together they will team up and fight against enemies, or attend the grand survival game and aim to be the champion! By participating in the summer events, Captains will be able to gain Miss Pink Elf's outfit Summer Miss Elf, Mobius' new outfit Daughter of Corals that turn the serpentine girl into a gorgeous mermaid, as well as Pardo's new outfit Midsummer Collector! Like before, the v5.9 update features tons of new content and bountiful rewards, so make sure not to miss out the fun!
Powered by WPeMatico