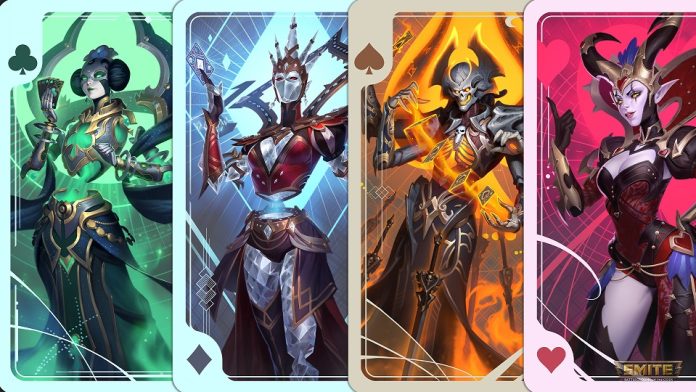 SMITE's latest update, out today, marks the start of three distinct events, the Heavenly Light major event, the Chibi Bots Battle Pass, plus a Birthday Celebration event. Each in its own way has free rewards for players to unlock.
The four month long Heavenly Light event has now started, featuring dozens of purchasable skins plus quest lines. The collection reward is Hi-Rez's new top-of-the-line shapeshifting skin: Queen of Cards Izanami. This Unlimited skin can only be unlocked as a bonus for purchasing the entire event.
Izanami, the Japanese matron of the dead, has been chosen to become SMITE's new 'Tier 5' skin, meaning one that rotates between several forms and evolves according to player actions during matches. Queen of Cards Izanami has four different forms, each representing a card suit – Hearts, Spades, Diamonds, and Clubs – and each as distinct as a separate skin.
For the first time in SMITE, this skin features its own quest system and is able to evolve permanently, not just for the current match. The Queen of Cards demands that her subjects entertain her – preferably by spilling the blood of enemy Gods. Each time she gets a kill or assist, she draws four cards. When it's four of a kind, players permanently unlock a special emote for the current form, with entirely different animations.
Battle Pass: Chibi Bots
It may be hard to choose the best theme for a Battle Pass, yet SMITE has found the ultimate one: a fusion between what players love the most – Chibi Gods and mecha Gods.
Starting today, four adorable Chibi Bots skins can be unlocked in the latest Battle Pass. Everyone progresses simply by playing matches, gaining access to dozens of rewards, including some for free such as the Intruder Bot skin for Cupid. Purchasing the Chibi Bots Battle Pass grants access to all rewards, including the other three robotic stars: Beaky Bot, Freezy Bot, and Doom Bot.
Birthday celebration event
During the Heavenly Light Update, SMITE is celebrating its 8th launch anniversary! Through a special in-game event, all birthday gifts go to the community as a token of gratitude, using a structure that has proved extremely popular.
A wide variety of prizes can be unlocked each day just by playing, including the new Husky Handler skin for Skadi, Boosters, Gems, and player-made cosmetics the SMITE team selected during a contest. Those include memey global emotes showcasing Khepri's giving out free hugs and Candy Shop Achilles coming out of a giant birthday cake.
Countless new combinations in custom games
Delivering a community request, new settings are now available for custom games. Playing with friends or for community events and tournaments, everyone can now use the exact same conditions as the World Championship – or quite the contrary, you can go wild with the craziest settings such as infinite gold, no mana costs, outrageous cooldown reduction, and more.
Powered by WPeMatico