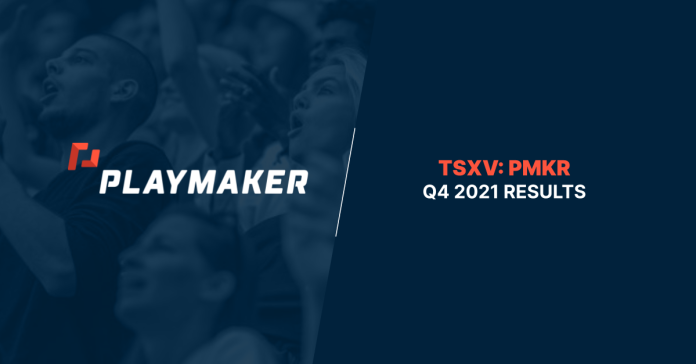 Playmaker Capital Inc. , the digital sports media company that delivers authentic content through its portfolio of sports media and technology brands, is pleased to report its financial results for the three months ended December 31, 2021 ("Q4 2021") and for the full year of 2021.
"Our pro forma results for Q4 2021 and full year 2021 demonstrate the continued execution of our strategy. We are acquiring great companies and successfully integrating them to leverage the centres of excellence within each business for the benefit of the entire Playmaker ecosystem. Our audience numbers have grown dramatically. We are now generating over 200 million monthly sessions from more than 85 million unique users across Playmaker's web properties, generating over 50 million monthly YouTube views and 550K monthly podcast streams, and reaching more than 100 million fans across all major social platforms. We have expanded our distribution channels to deliver relevant content to our fans when they want it, how they want it, and where they want it. Our organic growth has been phenomenal, and we have done it while maintaining a focus on profitability with a 119% increase in pro forma adjusted EBITDA year over year," said Jordan Gnat, Founder and CEO of Playmaker.
FINANCIAL HIGHLIGHTS (Figures in USD)
Revenue – Revenue was $7.0 million in Q4 2021, compared to $nil in Q4 2020.
Operating Income – Operating income was $0.5 million in Q4 2021, compared to an operating loss of less than $0.1 million in Q4 2020.
Pro Forma Revenue (including all acquisitions to date) – Revenue was $7.5M in Q4 2021, an increase of 49% from $5.0M in Q4 2020. For the twelve months ended December 31, 2021, pro forma revenue was $23.8M, an increase of 91% from $12.5M in the prior year.
Pro Forma Adjusted EBITDA (including all acquisitions to date) – Adjusted EBITDA was $2.9M in Q4 2021, an increase of 23% from $2.4M in Q4 2020. For the twelve months ended December 31, 2021, pro forma adjusted EBITDA was $9.3M, an increase of 119% from $4.2M in the prior year.
Cash and Cash Equivalents – Cash and cash equivalents were $7.1 million at December 31, 2021 compared to $6.6 million at December 31, 2020.
OPERATIONAL HIGHLIGHTS
Playmaker added to its collection of premier sports media brands through the acquisitions of Futbol Sites, Fanáticos, Yardbarker, Two-Up, SoccerMemes, VarskySports, TNN, Super Poker, Cracks and Futmarketing.
Playmaker achieved its highest rankings by Comscore for total web visits in the month of December 2021, ranking as the #6 digital sports media group across the Americas and the #1 regional sports media group across all of Latin America.
Playmaker achieved record engagement metrics in Q4 2021 across its owned and operated web properties, reaching more than 85 million monthly unique users and generating more than 462 million sessions, representing a 50%+ increase over Q4 2020.
Successful migration of Yardbarker's web monetization to Playmaker Bench, Playmaker's in-house monetization tech stack; commenced migration of TNN web properties to Playmaker Bench; Futbol Sites and TNN launched content syndication with major news outlets with support of Playmaker's syndication centre of excellence.
The Morning Bark, Yardbarker's daily email newsletter, increased its subscriber base to more than 370K.
TNN's podcast network achieved a monthly record of 550K streams in Q4 2021.
Playmaker brand Cracks generated more than 600 million views on YouTube in 2021.
Playmaker properties reached more than 100 million social media followers across all major platforms including Facebook, Twitter, TikTok, Instagram, YouTube and Twitch.
Powered by WPeMatico