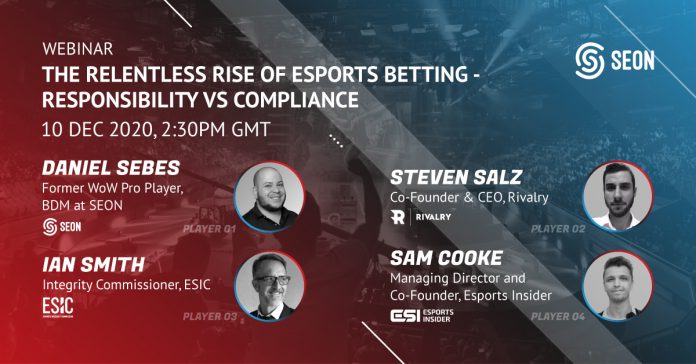 Reading Time:
2
minutes
Live session will delve into the past, present and future of this highly innovative industry
SEON, the fraud fighters, is pleased to announce its latest webinar, exploring how the relentless rise of esports and esports betting has been bolstered even further by the pandemic. Taking place on Thursday 10th December at 2.30pm GMT, the session will look to the past, present and future of this highly innovative industry.
To ensure the right expertise on its panel, SEON has teamed up with leading stakeholders from across the sector. These include:
Co-founder and CEO of esports brand Rivalry, Steven Saltz. Steven has been at the forefront of intense growth
Industry expert Ian Smith, commissioner at the Esports Integrity Commission (ESIC) whose own organisation's success and influence has been down to a more pragmatic regulation as an enablement stance and the cofounder
MD of The Esports Insider, Sam Cooke. With his own unique expert analysis and commentary Sam will bring another dimension of viewpoints and expertise to the discussion.
The panel will be engaged in a lively and entertaining discussion to future gaze and take stock of the year to date and its impacts. With the pandemic, will this be seen as the defining moment where positive change is exacted in this industry or will we be swept up in the growth story and neglect the opportunity to do so in the name of profits. It is with these issues in mind that SEON will explore the following questions during the live session:
Is there even any market regulation? – Past, present and future
Maintaining an ethical and fair market – What responsibilities do key players in the market hold?
Target audience maturity vs profits – Challenges, solutions and the current state of affairs
Which player has the most influence and impact?
What does the future hold? What will be an inflexion point of change?
To find out more about this free webinar and sign-up, visit: https://seon.io/webinar/relentless-rise-of-esports-betting/
Powered by WPeMatico