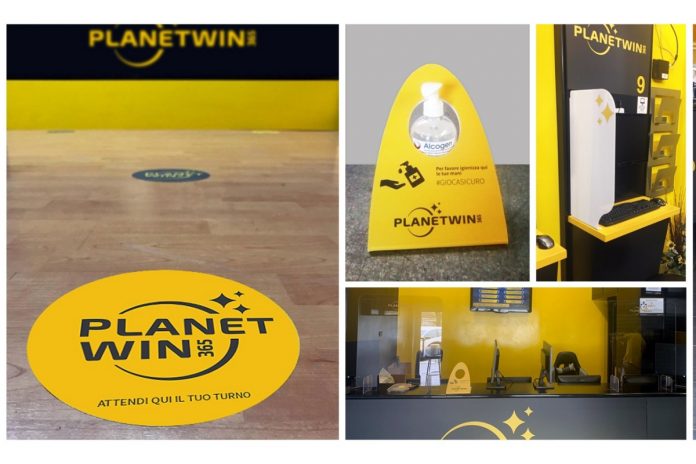 Reading Time:
2
minutes
Following the government approval, the retail network starts gradually to reopen to the public and resumes business after nearly three months of closure
After the closing of all betting shops by the DPCM on 8 March to curtail the spread of the COVID19 pandemic, SKS365 announces the safe reopening of its 1,000 shops Planetwin365 following timing and procedures pointed out by each Region.
The Company has put in place a series of actions and measures to secure the health and safety of its customers and employees to resume the retail business. In the past weeks, each shop has received a specific Opening Safety Kit from SKS365, containing a series of individual protection devices including masks, sanitizing gels and dividing barriers. It is the right moment to resume the retail business along with the restart of the main national and international sport events.
"It has been a crucial time for the business and absolutely necessary given the spread of COVID19. During that lockdown we have been actively and following #IOrestoCasa. One theme was the protection both of the public's health and of our retailers, who are our first and most important ambassadors on the whole Italian territory – commented Alexander Martin, CEO of SKS365, owner of the Planetwin365 brand – In addition we were developing a series of initiatives to improve our product experience both retail and online to offer more innovative services for our customers. Thanks to the enormous commitment of all parties, today we can say that our shops will reopen in a safe and even better operational way."
"With the reopening of our shops, I am thrilled to announce major updates to point of sale systems for customers and shop owners – commented Jim Parkins, Chief Product and Technology Officer of SKS365 – The new Planetwin365 self-service bet booking system represents the biggest change since the launch of our retail systems. Apart from significantly improving the speed and experience placing bets, along with our market leading betting terminals, the new software will help shop owners and customers maintain safe social distancing. Additionally, locating all our 1000 planetwin365 shops are now easily findable for customers in: Google maps, Apple maps, Waze and 45 other social mapping solutions. We look forward to coming back with our strongest product offering ever."
Powered by WPeMatico