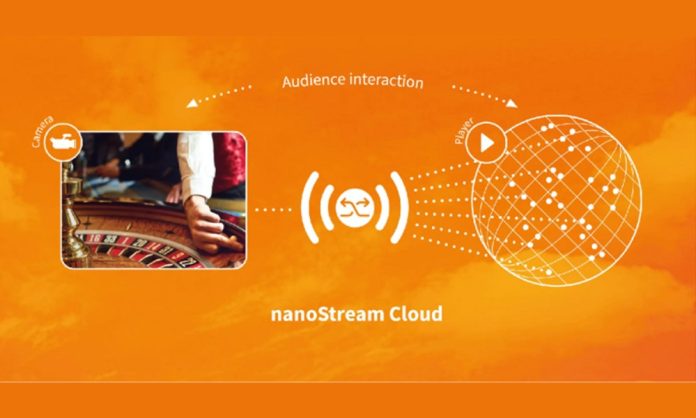 Reading Time:
2
minutes
The Berlin based B2B provider launches new innovations rounding up their live streaming platform and API nanoStream Cloud with new features to establish optimized Quality of Service and Quality of Experience for interactive live streaming.
nanoStream Cloud will be presented with improved usability, reliability, security, additional data–insight and the integration of additional streaming protocols like SRT (Secure Reliable Transport) and WHIP (WebRTC–HTTP ingestion protocol). Furthermore, nanocosmos makes Live Transcoding and Adaptive Bitrate Playback (ABR) accessible as a standard to enable smooth streaming for all clients and free trial accounts. The added features continue to highlight the focus on optimized Quality of Service and Quality of Experience for a 100% stable and reliable system, which is based on a unique combination of an ultra low–latency live streaming CDN, browser–based player and advanced analytics.

Adaptive streaming jazzes up B2B interactive applications
Nanocosmos enhances its adaptive streaming service not only by making it much easier for customers to manage their live transcoded streams with a new function called Stream Grouping, but also enabling uncomplicated access to the passthrough stream and live transcoded streams with different video quality levels. Adaptive Bitrate Playback and Live Transcoding are critical features for smooth playback on all devices for any network in any region. The ABR stream automatically adjusts to the best quality for the available network while the live transcoder converts the original live stream from a high–quality input stream into lower bitrate streams depending on the available bandwidth which is particularly important for on–the–go access via mobile. In combination with the new player for sub–second latency, nanoStream Cloud is now positioned to cover both as part of the standard package: Interactive live streaming with the possibility to achieve sub–second latency, including live transcoding and adaptive playback.

Newly added features strengthen security of interactive live streaming
JWT (JSON WebToken), a common secure token format in the web and streaming industry, improves playback security of the nanoStream Player. With the combination of the ABR Stream Groups, it facilitates
easy and flexible protection of business streaming content.
The interactive live streaming platform and API now benefit from added misuse protection; it is possible to block specific IPs and websites that are using content inappropriately via both: API and dashboard.

Enhanced measures for end–to–end observability Nanocosmos upgraded its nanoStream Analytics platform with an enhanced data logging and search backend. Customers will gain improved insights on streaming performance and respective parameters from ingest to playback. This benefits service and viewers' experience. Customers can access additional data made available via API or dashboard.
Additional client metrics include API support for the webcaster and ABR data, allowing customers to access information on browser, operating system, and bitrate.

Nanocosmos expands platform's ingest capacity/coverage with SRT Protocol nanoStream Cloud users can now ingest using the RTMP, SRT and WHIP protocols for WebRTC ingest for improving connectivity, especially for remote ingest locations and higher bitrates. "We are working with different partners and hardware vendors to better streamline support for ingest configuration and connectivity
for our business customers", says CEO Oliver Lietz.
Powered by WPeMatico