Top Wealthiest Canadian Athletes? Billionaire takes the number one spot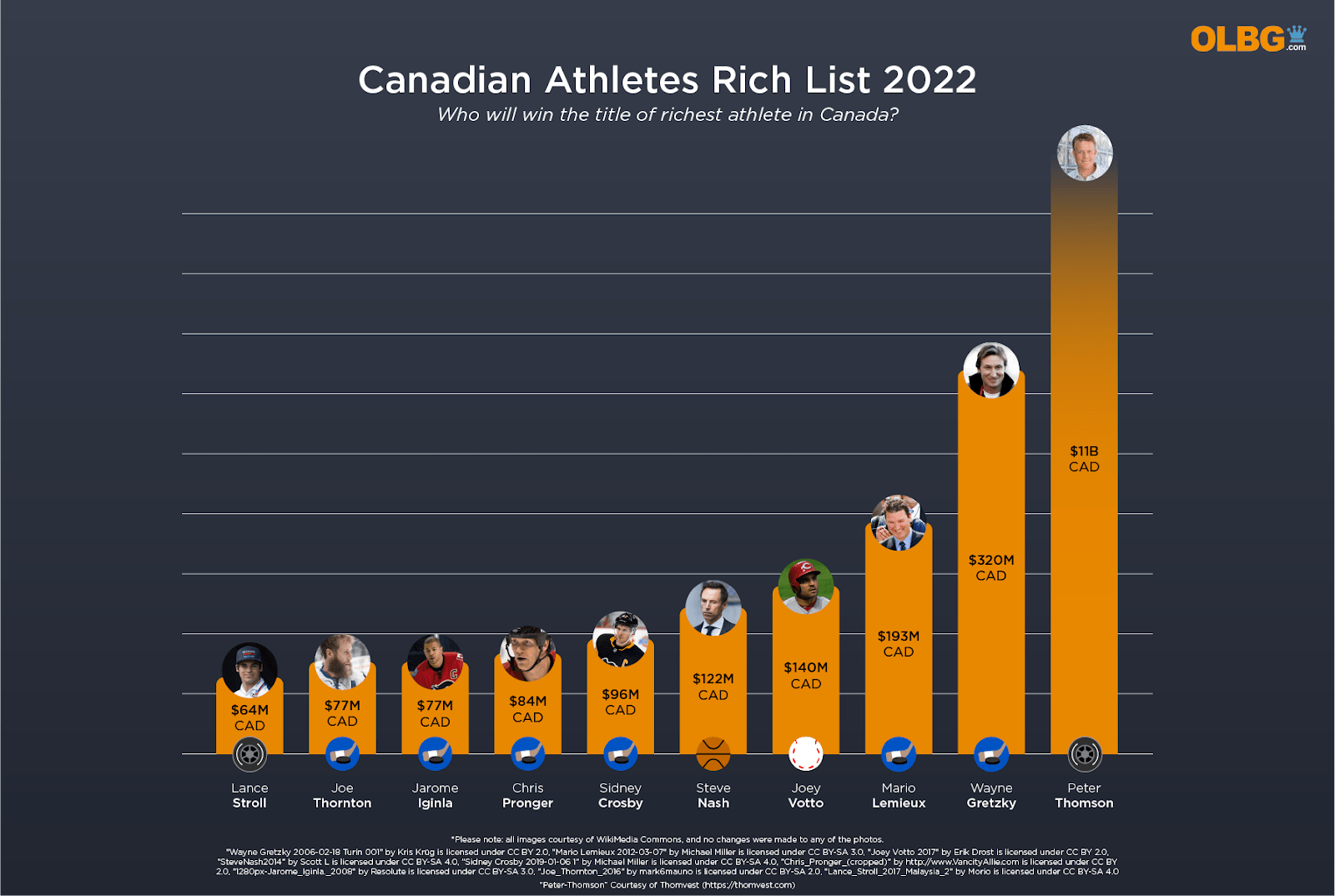 OLBG.com, a sports betting community platform, analyzed data surrounding Canada's most successful athletes to identify who amongst them has the highest net worth. OLBG started by looking at Canada's most popular sports, as well as more niche sports.
Our research revealed that the wealthiest Canadian athlete and only billionaire on the list is rally driver Peter J Thomson, with a net worth of $11 billion CAD. A majority of Thomson's net worth comes from his businesses that are completely outside the sports realm. Wayne Gretzky takes the 2nd spot amongst the wealthiest Canadian athletes, with a net worth of $320 million CAD. Gretzky built his status through hockey, however, even after his retirement he's continued to build his career with many other investments and business ventures both within and outside the hockey world.
Hockey is one of Canada's most loved sports, so it comes as no surprise that six out of the top 10 wealthiest Canadian athletes are hockey players – with Sidney Crosby making it to the #6 spot with a net worth of $96 million CAD. The other four spots are taken up by one basketball player, one Formula 1 driver, one rally driver, and one baseball player.
In our top 10 list, five of the athletes are from Ontario, this includes the:  #1 spot (Peter J Thomson), #2 spot (Wayne Gretzky), #4 spot (Joey Votto), #7 spot (Chris Pronger), and #9 spot (Joe Thornton). We also have two athletes from Quebec, one from Nova Scotia, one from Alberta, and one who was born in South Africa but immigrated to British Columbia.
Comparing the salaries of high-profile rally drivers to the salaries of other high-profile athletes, we saw a staggering difference. Looking at the top players in hockey, basketball, or even baseball, their salaries far exceed what Thomson earned. The yearly salaries of sports players on our top 10 list average around $10 million, whereas a high salary for a rally driver is around $2 million. Although rally drivers are less popular and make a smaller salary than other typical sports players, our rally driver Peter J Thomson still takes the number one spot of wealthiest Canadian athlete.
 Other findings in our research reveal a lack of equality, as a majority of our mentions are white males. There was only 1 POC and no women were included in our top 10. An investigation by CBC Sports reveals that there is a prevalent issue among Canadian sports. They looked at 400 top positions at 56 universities, and only 10% of the positions were held by POC.
 Richard Moffat, CEO at OLBG.com commented: "It's interesting to see athletes building their businesses both during and after their athletic careers.  This research shows how being a sports personality is a real catalyst for wealth in Canada."
For more detail and the full top list see our infographic attached in email, as well as content on site: https://www.olbg.com/ca/blogs/wealthiest-canadian-athletes
Powered by WPeMatico