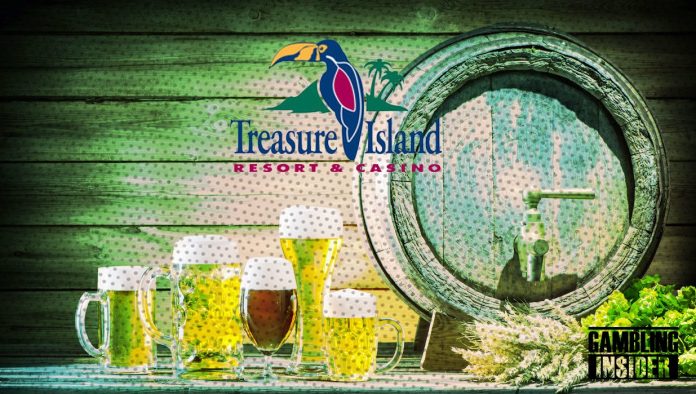 Treasure Island Resort & Casino and Spiral Brewery announce a partnership to coincide with the 2022 Summer Concert Series. Rooted in Treasure Island's long-standing commitment to support local businesses and Spiral Brewery's strong community ties, this one-of-a-kind partnership celebrates the fun and excitement of The Island and the rich brewing history of Hastings, Minnesota. The signature element of the collaboration is a proprietary beer, created exclusively for Treasure Island by Spiral Brewery. This is believed to be the first time a Minnesota casino and a Minnesota brewery have worked together to create a proprietary beer.
The beer, appropriately named "The Island," was introduced to consumers at the recent Treasure Island and Spiral Brewery Launch Party. The Island is served at all Treasure Island bars and events, including the Treasure Island 2022 Summer Concert Series, which begins Friday, May 27 when Dierks Bentley and special guest Ashley McBryde take the Treasure Island Amphitheater stage. Lighter and more refreshing than the typical IPA, The Island pairs perfectly with nights spent under the bright lights of the Treasure Island Amphitheater. In addition to The Island, Spiral Brewery will also have a rotating seltzer on tap at all of Treasure Island's 2022 Summer Concert Series shows.
"This partnership is much more than a brand-new beer. This is a chance to showcase our brewers' talent for the brewing process and Spiral Brewery's passion for building community bonds. We are proud to work with an organization that supports local businesses like Treasure Island does," said Spiral Brewery president Amy Fox.
Powered by WPeMatico