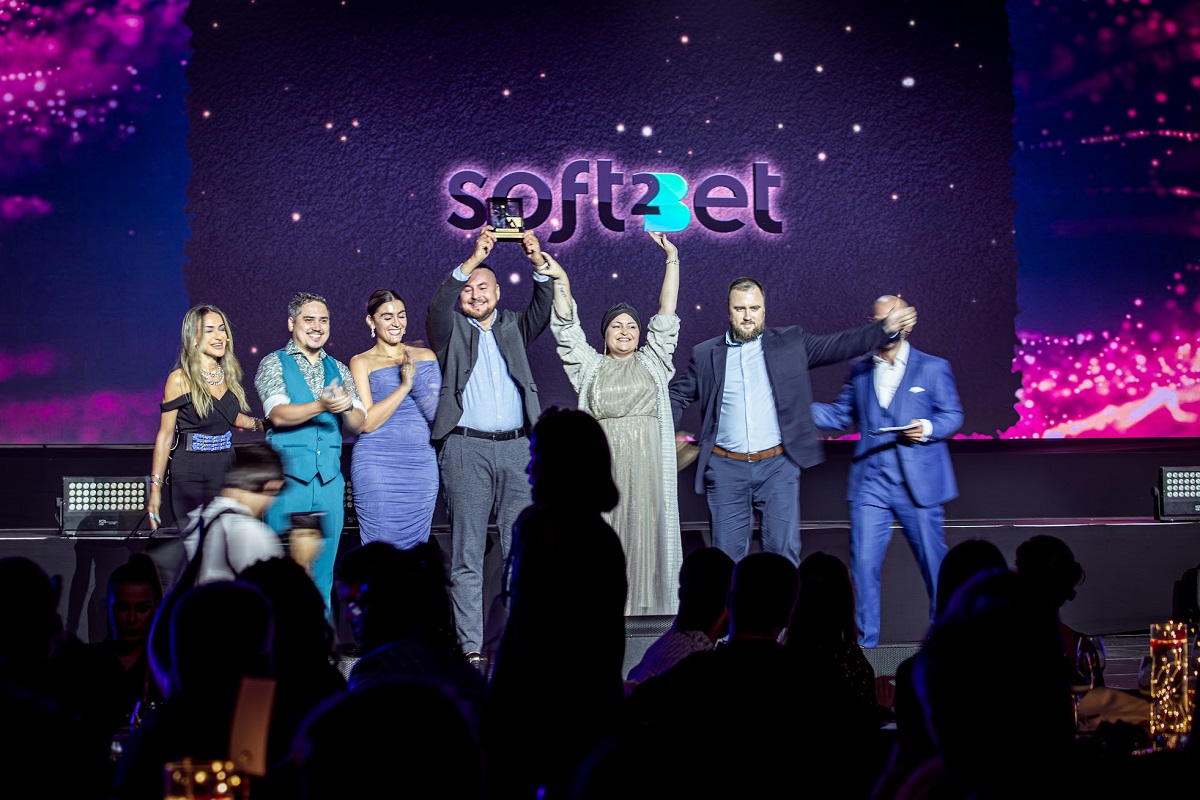 Reading Time:
2
minutes
Soft2Bet, in its groundbreaking partnership with SiGMA, brought SiGMA Balkans & CIS to Cyprus for the first time ever on September 04-07, 2023. The event was held at City of Dreams Mediterranean, Europe's first integrated resort where a premium hotel meets majestic casino and a grand holiday destination.
Soft2Bet rocked SiGMA Balkans & CIS, winning the Platform Provider of the Year category at BALKANS/CIS Gaming Awards, featuring several prominent speakers in the event's lineup, and showcased its state-of-the-art gamification technology at its exhibition stand. Moreover, on September 5, SoftBet hosted an exclusive party for its partners at City of Dreams Mediterranean, gathering over 400 people to celebrate the company's 7th anniversary.
The SiGMA Awards ceremony: A night of recognition
SiGMA Balkans and CIS 2023 opened with the awards ceremony held on September 4th. Aimed to recognize the most prominent players in the iGaming industry, the BALKANS/CIS Gaming Awards night celebrated the industry's top achievements and perfectly set the tone for the following days of the event. Soft2Bet won in the Platform Provider of the Year category.
Soft2Bet's Gala Dinner: A celebration of the shared success
On September 5th, Soft2Bet hosted an exclusive Gala Dinner party at the City of Dreams Mediterranean, gathering its partners to celebrate the company's 7th anniversary and the shared success over these years. Soft2Bet gathered 400+ partners from all over the world to this exclusive event to enjoy amazing performances by celebrity artists and have fun together.
Soft2Bet CEO Uri Poliavich commented: "This Gala Dinner party was fire! Over 400 partners joined us in Cyprus, celebrating our shared path and experiences. Here's to another successful year ahead – and an even cooler celebration next time. Let's keep going!"
SiGMA conference: Roundtable panels with Soft2Bet's key experts
Soft2Bet's speakers participated in several panels during the event. David Yatom Hay, General Counsel, and Lisa Isaksson, Head of Regulatory and Compliance, discussed responsible gaming laws in the "Responsible Gaming Regulation: A Global Perspective."
It makes it easier for businesses to adapt to regulatory requirements to build a product that is coherent between jurisdictions. It also eases the burden of development when going into new jurisdictions – as well as the burden on operational teams when it comes to learning new procedures," Lisa shared at the conference.
Meanwhile, Yoel Zuckerberg, Soft2Bet's CPO, shed light on the challenges and opportunities of player retention in the "Player Retention In The Age Of Free-To-Play: Challenges And Opportunities" panel. "Free to play may be crucial to our market, but so is gamification. That's where the growth and retention are. That's innovation," stated Yoel.
Meet Soft2Bet at the upcoming events
In the coming months, Soft2Bet will attend several more key iGaming events. At the SBC Summit Barcelona on September 19-21, the company will exhibit at the stand SB36. On November 13-17, Soft2Bet will also participate in SiGMA Malta, offering yet another opportunity for industry peers to gain valuable insights and a fresh look at Soft2Bet's top-notch gamified solutions.