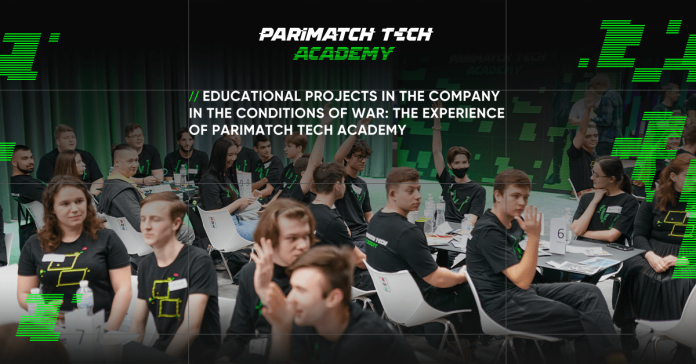 Reading Time:
3
minutes
Parimatch Tech Academy is an educational project of Parimatch Tech which provides students with zero commercial experience an opportunity to enter IT and get a job. The main features of the academy are methodology, the soft skills boost, and paid internships with interaction with real projects. Best students after graduation receive a job offer from Parimatch Tech.
What happened with the academy during the war
When Russia began its full-scale invasion of Ukraine, Parimatch Tech Academy taught students in four disciplines: .NET, JS, DevOps and C# Automation. These classes started back in November 2021 and were scheduled for 3.5 months. After graduation, the students would be allowed to take their final assignments and further internship. But because of the hostilities and shelling, the academy was forced to suspend the classes.
After a few months of adaptation to the new war reality, Parimatch Tech Academy has renewed classes online. In mid-May, 38 students returned to studying.
The decision to resume education exemplifies Parimatch Tech values. We have a principle: "Keep your word". We are responsible for our students, and we want to see this project through to the end, despite the difficult situation in the country. Likewise, we needed to support the students during these hard times.
Tetyana Davydova, Chief Talent Officer at Parimatch Tech
In addition, Parimatch Tech Academy is now launching new disciplines: QA Automation (Java) and Data Engineering. Enrolment will start at the end of the summer.
We still want to share our knowledge and help young and talented people to begin their career. The academy is a passion project for us because our graduates are a part of Ukraine's IT future.
Arthur Ashirov, Vice President of Engineering at Parimatch Tech and Parimatch Tech Academy mentor.
How mentors helped in returning the educational process
The mentors were constantly in touch with the students since the beginning of the war. When the academy announced a pause for an unspecified term, the mentors switched to personal messengers with the students and continued to discuss projects and homework. They showed the best ways to implement recently studied approaches. Even during the break caused by the war, the students continued to acquire new knowledge.
"Can you imagine what happened when my supervisor asked me whether I was ready and willing to resume my studies? Of course, my answer was "Yes!". When I saw my mates at the first lecture after the break, I was full of gratitude to the Parimatch Tech people. At the first lecture, everyone looked so happy, seeing each other alive, and telling stories about their recent wartime adventures."
Anna Golovina, Parimatch Tech Academy student.
Academy mentors mentioned that the student's motivation has only grown since the beginning of the course because they had already gone such a long way in their studies that the only logical option was to finish it.
"When you can't plan your life, having some stability and the opportunity to get an offer from an IT company looks like a good incentive to focus." — say academy students.
Adapted to the renewed format, Parimatch Tech Academy was forced to reduce the number of lectures. Education specialists also changed the process of graduation. Previously, the academy organized a graduation ceremony with the awarding of diplomas. This time graduation was online with certificates and bonus gifts.
How goes the internship
After completing the course, graduates have interviews with company representatives from a particular business area. If they pass interviews, the internship lasts for 2.5 months on real company projects.
Interns are introduced to the project, infrastructure, team, and job responsibilities. Each intern has a team mentor who sets goals and objectives for the tasks and helps solve any issues they face.
After graduating this June, 29 students started their internship in four areas: JS, .NET, DevOps, and C# Automation. Their cooperation with Parimatch Tech will last until August 31.
"Despite the war, it is crucial to continue self-development and learning, not to put it off for tomorrow, and do it. But you need to hear your inner voice and give yourself the right to rest because working 247 could lead you to burnout." — says Vira Gyuskova, LED Architect at Parimatch Tech.
Powered by WPeMatico