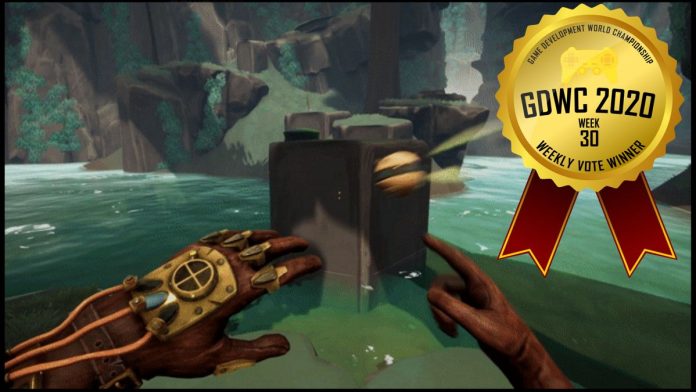 Reading Time:
2
minutes
Project Grove by Antler Studios, an indie developer from United Kingdom, has won the weekly voting on Game Development World Championship Fan Favourite category for the Exploring Puzzles Week. Project Grove is available on Steam.
"An elegant puzzle exploration game: Solve spatial conundrums using your pocket knife robot companion! Follow ageing Alchemist Edric and his portable platform L-P1N on their journey to locate the mythical Grove, in hope of finding a cure to the Empire's pandemic: the Great Rot." Antler Studios describes Project Grove.
Antler Studios moves on to the next round of voting in the Fan Favourite category of the GDWC – Game Development World Championship and will meet other Weekly Vote winners in a battle for the crown at the end of the GDWC 2020 season.
2nd place was taken by Embracelet by Machineboy from Norway: "Embracelet is an adventure game set in Northern Norway – a unique coming of age story about love, loss, friendship and family – and a magical bracelet with mysterious powers!"
3rd place went to Crowns and Pawns: Kingdom of Deceit by Tag of Joy from Lithuania: "Crowns and Pawns: Kingdom of Deceit is a charming European mystery adventure.– Experience the legendary stories of the Grand Duchy of Lithuania, beware of the villainous branch of the KGB, solve puzzles and follow hints to uncover the secrets of the king who was never crowned. –"
The GDWC team sends congratulations to the winning team and big thanks to all Nominees and voters. The weekly votes take place each week, from Monday to Saturday and there are always six new exciting games to check out and vote for. This week's vote is already live on the event website at thegdwc.com.
This week's voting theme is Silly Fun Games and the nominees are:
– Freddy Spaghetti by Playful Pasta (South Africa)
– Miracle Cure by Miracle Cure Team (Canada)
– Nightmare Fishing Tournament (2020) by Suits N' Nukes (USA)
– RUN! GRANDPA! RUN! by whitedog (Georgia)
– The Pancakes Official Game Show by Dema Studios (Italy)
– You Suck at Parking by Happy Volcano (Belgium)
Powered by WPeMatico