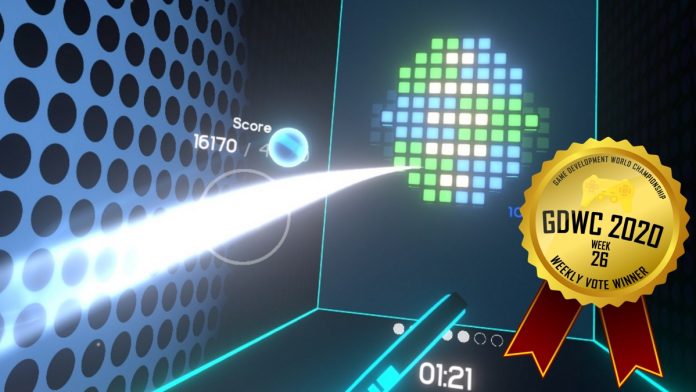 Reading Time:
2
minutes
Quash by Team Quash, French devs team built around VR arcade game Quash, has won the weekly voting on Game Development World Championship Fan Favourite category for the VR Games Week. Quash is available on Steam.
"Quash is a VR arcade game where you're swinging your racket, destroying bricks, rising your score and climbing up the campaign." Team Quash describes Quash.
Team Quash moves on to the next round of voting in the Fan Favourite category of the GDWC – Game Development World Championship and will meet other Weekly Vote winners in a battle for the crown at the end of the GDWC 2020 season.
2nd place was taken by Arcaxer by Overrun Games: "Arcaxer is a VR turn based RPG with first person action oriented combat, and a 3rd person god-view overworld. In the overworld you will explore procedural dungeons to find equips and new abilities for your character."
3rd place went to Boiling Steel by MiroWin VR studio from the Ukraine: "Sci-fi VR shooter with intriguing storyline from one of the authors of S.T.A.L.K.E.R. series. Thousands of light years from home. You are alone. Nowhere to run."
The GDWC team sends congratulations to the winning team and big thanks to all Nominees and voters. The weekly votes take place each week, from Monday to Saturday and there are always six new exciting games to check out and vote for. This week's vote is already live on the event website at thegdwc.com.
This week's voting theme is Story Games and the nominees are:
– Arcanbreak by Kisuarts, Finland
– Burn Me Twice by Null Reference Studio, Spain
– Ever Forward by Ever Forward Team, Spain
– Helheim Hassle by Perfectly Paranormal, Norway
– Saint Kotar by Red Martyr Entertainment, Croatia
– What Comes After by fahmitsu, Rolling Glory Jam, Indonesia
Powered by WPeMatico