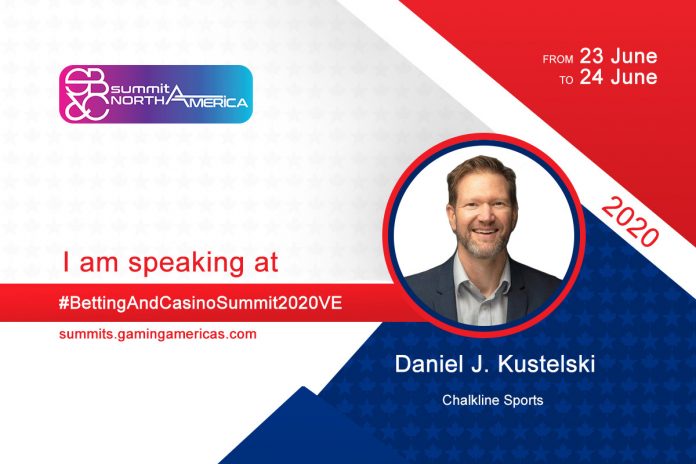 Reading Time:
2
minutes
The Sports Betting & Casino Summit North America (Virtual Conference) will open its virtual doors between 23-24 June and we are taking time to introduce you to the experts that will be joining the panel discussion.
The top industry companies have all confirmed their interest and you need to be there too! The virtual seats are limited, so hurry and register now to secure your seat(s)! REGISTER HERE
We are honored to announce that Daniel J. Kustelski (Co-Founder and CEO at Chalkline Sports) is going to be among the speakers that will share the insights at our first conference in the North American region!
Former Engineer Officer in the US Army. I have over 10 years in senior-level leadership in gaming and sports.
Areas of Expertise:
• Leadership & Team Building
• iGaming, Interactive Gaming & SportsBetting Integration into Land Based Casinos and Resorts
• Advanced Deposit Wagering (ADW) operations in Horses, Harness, and Greyhound Racing
• Acquisitions & Due Diligence
• Data-Driven Strategic Planning / Business Development
• Player Acquisition/Retention/Reacquisition and Funnel efficiency
• Gambling Operations with full P & L oversight, forecasting, and budgeting
I founded a leading sports betting company in South Africa that was sold to Sun International, Africa's 2nd largest casino group. Previously, I was in the sports marketing industry where I worked on various commercial strategies linking and integrating global brands with sports organizations.
I have spoken about the above topics at gaming and sports marketing conferences all over the world. They include ICE Totally Gaming in London, South Africa Responsible Gambling Summit, Business in Gaming(BiG) Africa Summit, and Global Symposium for Racing & Gaming in Arizona.
I earned an MBA from Wits Business School in Johannesburg, South Africa, and a BSc from The United States Military Academy in West Point, New York. I lived in South Africa for over 12 years.
Do not miss this unique opportunity to attend a virtual conference that gathers all North American gaming industry experts for 2 days of discussions and networking. Register your seat now!
Powered by WPeMatico