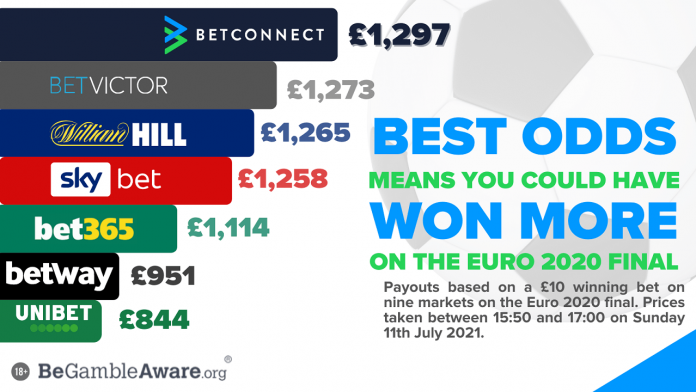 Reading Time:
2
minutes
Sports bettors could have made up to £453 more on the Euro 2020 Final had they always bet with the best odds
The BetConnect platform enables users to get the best odds from all the major bookmakers in one account
Users can bet at these prices through a single BetConnect wallet, ensuring they always have access to the best odds in the market without needing multiple accounts
Sports betting platform, BetConnect, has released data showing how punters in the UK have missed out on hundreds of pounds by not getting the best odds available on the Euros.
The research found that a £10 winning bet on nine markets of the Euro 2020 Final would have made £1,297 at BetConnect, £183 more than the same bets placed at Bet365 and £453 more than Unibet.
BetConnect lets users choose from all the major bookies' odds without needing accounts at each bookie. Users can get best odds across up to 12 different bookies and place their bet on BetConnect, removing the need to have multiple accounts or trawl through odds comparison sites.
BetConnect founder, Dan Schreiber, said: "Every bettor wants to get best odds for their bets, but often that involves spending time searching through lots of different apps and setting up multiple accounts. Some punters simply see it as too much hassle trawling through comparison sites or having their money tied up in numerous bookie accounts. Plus, we've found that the winnings being missed out on could be far more significant than many people think.
"By always being able to get best odds, BetConnect users can really increase the profit they make on their winning bets, without any of the hassle. We see this as a hugely important step in order to ensure punters get the winnings they deserve."
A bit about BetConnect:
The BetConnect platform brings total transparency to the betting market by enabling users to access odds from all major bookmakers in one place.
Users can place their bets through a single BetConnect account with no need to have multiple accounts with different bookies.
BetConnect users can both back and lay bets on major sports including horse racing, football, golf, tennis and cricket.
BetConnect has grown to nearly 20,000 customers and more than £245m matched since launching in 2018.
Powered by WPeMatico