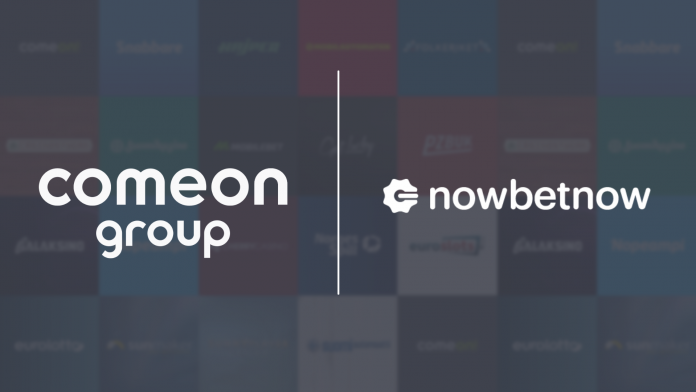 Leading gaming operator ComeOn Group announced they have entered into a partnership with NowBetNow, a provider of automated and personalised betting content.
NowBetNow's product is now live for all of ComeOn Group's brand portfolio and delivers straight to betslip content across all customer touchpoints including app, web, social media and email. From automated sports betting accumulators and live trending bets through dynamic boosted prices displayed in social media and CRM channels, NowBetNow automatically generates and displays messages for over 5,000 personalised betting segments with real time pricing for ComeOn's customers every day.
ComeOn Group keeps innovating to provide exceptional customer experiences, which is powered by ComeOn Group's proprietary and innovative iGaming platform. Adding NowBetNow's solutions moves the customer experience of ComeOn's services to the next level of player engagement.
The team behind NowBetNow is the same team that founded Oddschecker and has more than twenty years experience of the gaming market.
Strategically, this partnership shows that ComeOn Group continues to innovate and to deliver the best possible experience for its customers.
Juergen Reutter, Chief Executive Officer at ComeOn Group, said "We are really excited about our new partnership with NowBetNow and the upside it will bring to our business. Personalisation is a key part of our strategy to drive user engagement to the next level and NowBetNow is bringing us closer to providing the right content at the right time, for the right customer in an automated and real time fashion. At ComeOn Group we keep innovating for the best player experience – on our own proprietary iGaming platform and with the a range of innovation-focused partners such as NowBetNow"
Stewart Vassie, Co-founder of NowBetNow, said: "Partnering with ComeOn Group to increase customer engagement through automating and personalising their social channels, web and mobile apps is hugely positive for both ComeOn Group and NowBetNow. Innovating and delivering on customer needs is what excites us and ComeOn are great at continuing to innovate and set new challenges, we really enjoy working with their teams."